Why Influence is at the Core of Building a Personal Brand
Authors, consultants, and other leaders in the professional service space want to do one thing and do it better than anyone else: improve people's lives.
Since there isn't (yet) a magic potion that will help you to achieve your goals, entrepreneurs and experts can't instantaneous create positive changes in your life at the swipe of your credit card.
They can't do the work for you. 
They have to be genuinely knowledgeable about what it takes to help you achieve your goals. They have to be able to prove results from experience, and they have to persuade you to follow their strategic advice.
They have to influence you to take their advice and do the work.
At the center of this aphorism lies the core of personal branding: Influence.
Influence is one of the four areas of focus when building your personal brand. To help you ensure you are well-positioned to influence your network and customers, we're taking a deep-dive into the importance of influence in personal branding and analyzing one of the digital marketing industry's most impactful influencers, the inimitable Gary Vee.
What Influence is NOT in Personal Branding
Influence is Not a Number of Followers
Too many entrepreneurs attempt to rush the growth phase of their personal brand. They fail to take the steps necessary to earn authority among their followers.
They mistakenly believe that being an influencer means amassing a following on social media.
Sorry, folks, but Grumpy Cat has 53,500 Twitter followers and 2.7 million Instagram followers—and it's not because he's helping people learn to be more cantankerous.
Building a following and a community around your pedagogy are essential pieces of creating a personal brand. However, the size of your following does not directly translate to your level of influence.
Your number of followers may lend some social proof to your image, but don't mistake it for influence. 
If you were to generate one million followers by sharing videos of hilarious pranks and shenanigans with your buddies (think influencer Jake Paul), and you decide to sell your influencers a product or service unrelated to the reason they started to follow you (think Jake Paul selling an investment consultancy), would the majority buy? Not likely. 
Influence is not followers, likes, or subscribers.
Influence ≠ Persuasion
Outside of the social sphere, many people also misinterpret influence as mastering the art of persuasion. While persuasion is a component of influence, the two are not synonymous. 
Persuasion is pushing. Influence is pulling. 
If you study the art of persuasion but aren't an authority in your industry or haven't yet put your philosophy to the test and generated proof-positive results, your pitch will eventually fall down, and you won't be able to replicate your sales model long-term. You may be able to get a customer to buy your service once or twice, but you won't be building a six or seven-figure personal brand.
What Influence IS in Personal Branding
At PersonalBrand.com, we define influence as the intersection of expertise, credibility, and persuasion.
Credibility.

Credibility is third-party validation.

When other people validate your skills

, knowledge, character, expertise, intelligence, you have earned credibility and authority. Once you have gained credibility, you need to focus on extracting it and communicating it. Communication strategies like

testimonials

and

interview marketing

can help, and there are other steps you can take to

earn online credibility quickly

.

Expertise.

Expertise is the most important factor contributing to influence.

Knowledge + Experience + Results = Expertise.

If you're going to

grow your personal brand

, you need substance. You need to be a thought leader in your niche and bring the market a proven, innovative solution to drive results. Read these

seven, busted thought leader myths

to ensure you have the expertise needed to amplify your impact and grow your personal brand and then learn how to

differentiate your offering by identifying your ideal market segment

.

Persuasion.

Persuasion is strategic communications.

As we mentioned earlier, it's not about getting people to do what you want them to do. That's manipulation—persuasion with a pre-defined end game that only benefits you. At PersonalBrand.com, we only believe in win-win relationships and in selling products that serve the world. 
To be persuasive, you must take who you are, what you do, and communicate it powerfully so that people recognize your value and retain your service to help them get the results they know you can deliver—because you've done it before.
When you understand persuasion, you can leverage it in your marketing copy and other strategic communications. Persuasiveness is key to designing calls to action (CTA) that convert. Learn more about CTAs here.
Influential Personal Brand Case Study: Gary Vaynerchuk
Gary Vee is widely considered to be among the most insightful, successful, and influential digital marketers in the nation.
He has 7.2 million Instagram followers, 2 million Twitter followers, and 2.4 million YouTube subscribers.
Again, his followers and subscribers alone do not portend his influence. Gary Vee does, however, meet all three of our personal brand influence criteria: He has amassed expertise, he is persuasive, and he is credible.
Credibility
Gary's persona is flush with authenticity. In his writing, podcasts, videos, and speeches, he is practical and direct—often blunt—when sharing his point of view. It's one of the reasons why like-minded people love him and love being part of his tribe.
Remember, though, that we defined credibility as being endorsed by third parties. Gary's got that too.
Nearly every respected media publication has featured Gary, including  The New York Times, Forbes, Fortune 40 Under 40, Inc., Entrepreneur, Fast Company, Mashable, The Wall Street Journal, Crain's New York Business, and Success.
There isn't a respected media outlet that hasn't sought Gary's insights and opinions. He's endorsed. He's proven. He's direct. He's credible.
Expertise
Gary can tell you what it takes to build a successful business because he's done it. Multiple times over. Per Gary's bio that appears on his website,
Gary Vaynerchuk is the chairman of VaynerX, a modern-day media and communications holding company and the active CEO of VaynerMedia, a full-service advertising agency servicing Fortune 100 clients across the company's 4 locations.
In addition to VaynerMedia, VaynerX also includes Gallery Media Group, which houses women's lifestyle brand PureWow and men's lifestyle brand ONE37pm. In addition to running VaynerMedia, Gary also serves as a partner in the athlete representation agency VaynerSports, cannabis-focused branding and marketing agency Green Street and restaurant reservations app Resy.
Gary is a board/advisory member of Ad Council and Pencils of Promise and is a longtime Well Member of Charity:Water.
Gary is a highly sought after public speaker, a 5-time New York Times bestselling author, as well as a prolific angel investor with early investments in companies such as Facebook, Twitter, Tumblr, Venmo, and Uber.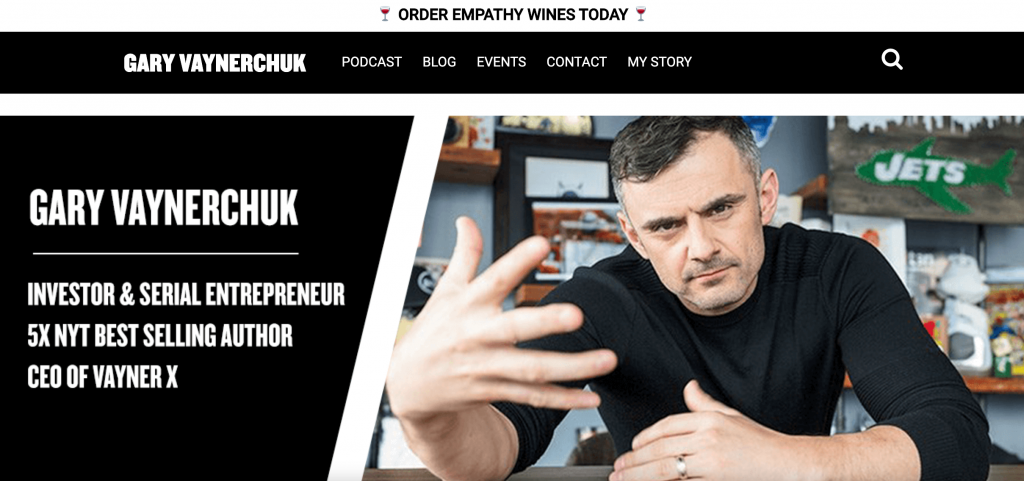 If you want to learn from the best when it comes to business growth and digital marketing, you'll be hard-pressed to find someone more proven than Gary Vee.
Persuasion
Gary Vee seems to have a never-ending supply of energy. His passion is infectious, and it's hard to listen to him deliver one of his podcasts and not catch the fever of his enthusiasm. People are naturally drawn to energetic extroverts, which helps Gary's quest to persuade his followers of his ideas, tactics, and coaching.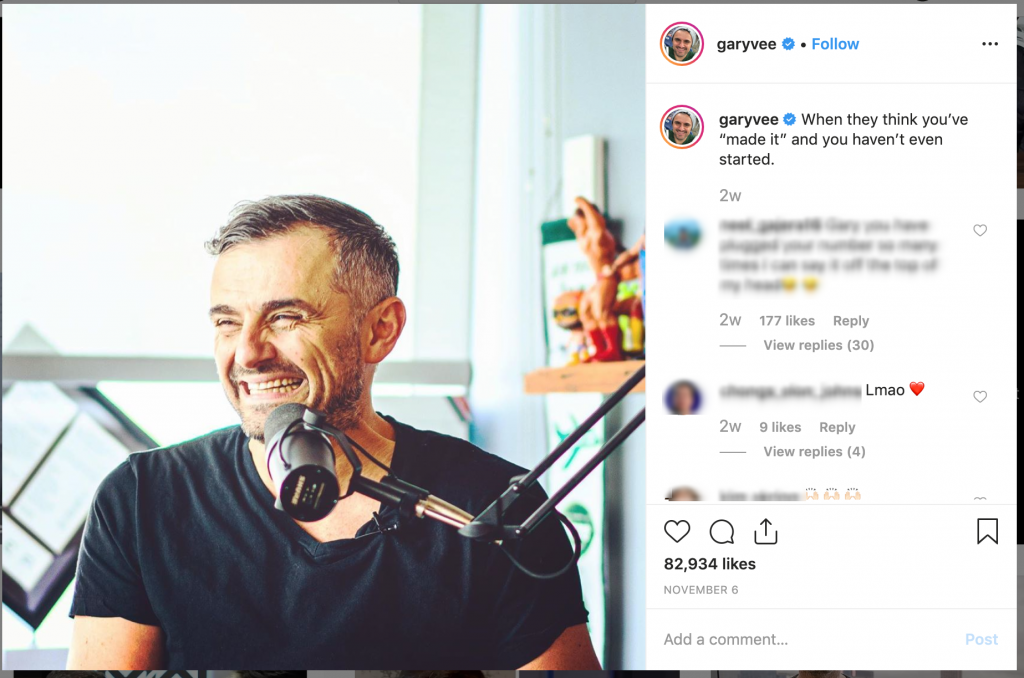 Another element of Gary Vee's persuasive ability is the way that he leverages storytelling.
More specifically, the telling of his own story from an underdog, to successful magnate.
Everyone loves a story of redemption and success, and Gary has an infectiously charismatic way of showcasing how he overcame struggles to achieve his success.
It's the kind of storytelling and delivery that convinces his listeners that if he can do it, they can too. 
For more examples of influential personal brands, check out these six examples of the world's best personal brand websites.
The DNA of Influence
As you work to build your personal brand by synthesizing what you've learned in your life and using it to help others become the best possible versions of themselves, make sure you spend time ideating around your influence. Ask yourself these three questions:
Are You Credible?

Do you have trusted thought leaders in your industry who will endorse your expertise? Have you been quoted in reputable media outlets? Do you have a portfolio of proven results? If not, how can you earn these totems of credibility?

Are You an Expert?

Have you done the work to earn innovative knowledge to share with your followers and sell it as a service? Many of us want to turn a hobby into a career, but if you're hoping that people will pay you for your insights, you have to earn the right to call yourself a thought leader. You need to bring something paradigm-shifting and impactful to the market. If you don't feel like you could confidently answer any question that comes at you about your area of interest, what can you do to become more knowledgeable?

Are You Persuasive?

What is your value proposition?

Do you know how to put into words why your followers should work with you or buy your services? Are you comfortable and confident in selling your personal brand? Do you genuinely have something life-changing to offer that you will feel proud to tie to your name intrinsically?
If you want more insights and more actionable steps to generate influence for your personal brand through credibility, expertise, and persuasion, click here to take our online Income + Impact Accelerator Course. It's packed with hours of personal brand building content, strategy, and guidance to help you grow your influence until you're leading the lifestyle of your dreams.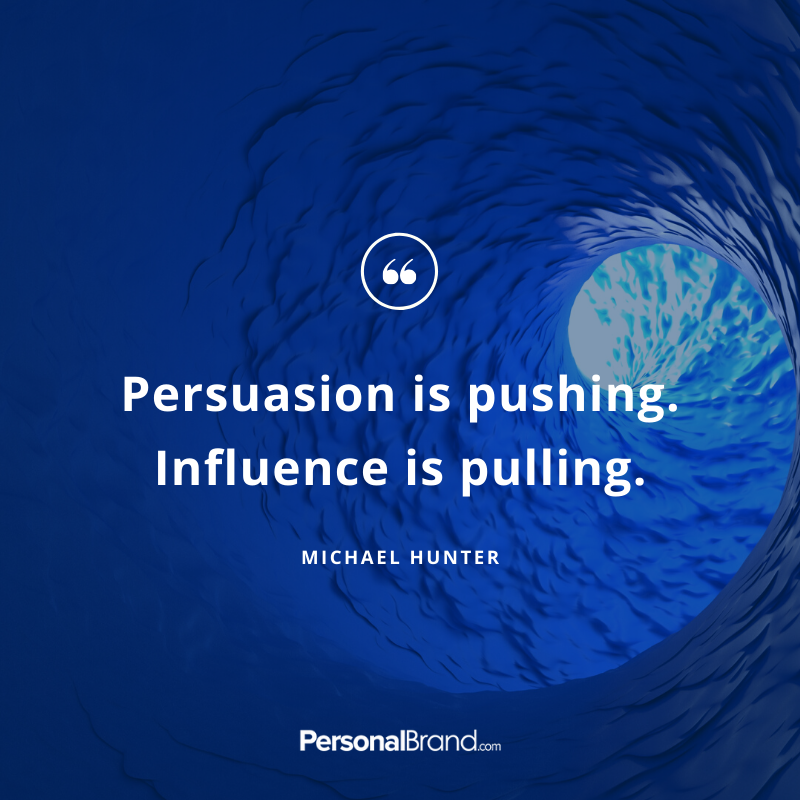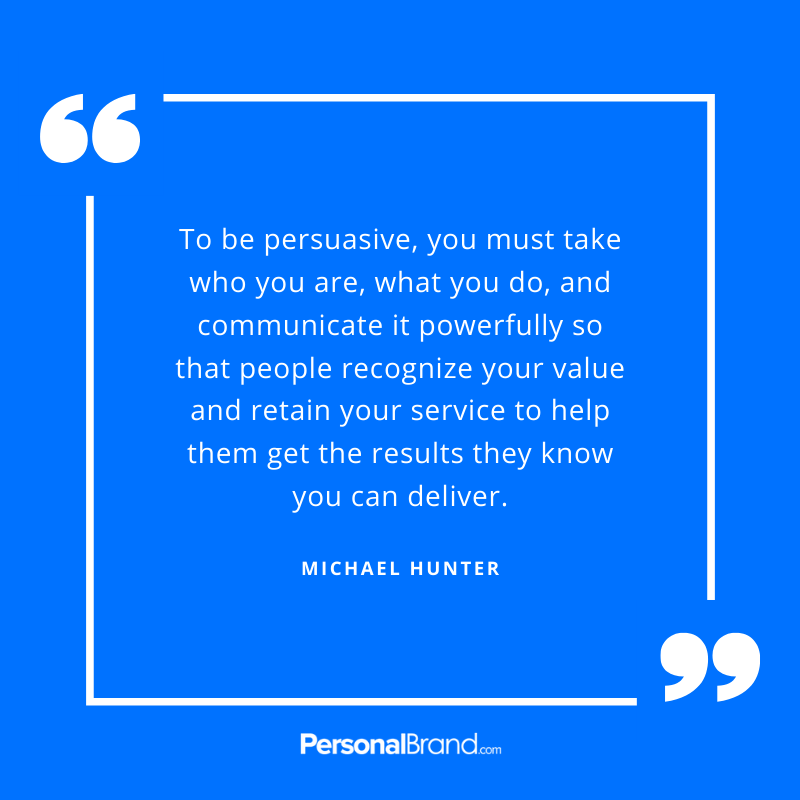 Take It One Step Further
A personal brand is the best way to increase your impact, influence and income.  Start building your personal brand today, we're here to help!
For more, great content on how to build your personal brand, subscribe to our newsletter and join our private Personal Brand Builders community. You'll never have worry about missing our latest and greatest tips, strategies, and advice for building your personal brand.
We hope you enjoyed this article. Follow us on Facebook, and Twitter for updates every time we publish!