17 Tactics for Accelerating Your Email Subscriptions
Email marketing is critical to building your network of personal brand followers and advocates, and to converting sales.
According to Experian, transactional emails have eight times more opens and clicks than any other type of email and can generate six times more revenue. McKinsey's data agrees, finding that email is 40 times more effective at acquiring new customers than Facebook or Twitter.
The Data & Marketing Association (DMA) also tells us that when it comes to purchases made as a result of receiving a marketing message, email has the highest conversion rate (66%), when compared to social, direct mail, and more.
So, now that you're on board with sending emails, who's on your list?
You might be getting started building your personal brand, or maybe email marketing has not been a priority until now. Perhaps your email database is comprised of your network of friends and colleagues only.
If you can relate to any of those areas, then it's time to accelerate your subscription strategy. You need to grow your email database so that you can use powerful email marketing techniques to build your brand's awareness and boost revenue and sales.
That's why we're offering you 17 proven acceleration tactics to help you grow your email list exponentially, quickly, and cost affordably.
As a bonus, we've included examples of how the biggest names in the personal brand industry are using these proven tactics. Let's go! 
1. Offer an Incentive to Email Subscribers
Have you ever signed up for an email newsletter to get a 15 percent discount off a planned purchase?
So have 60 percent of online consumers.
Incentivize your target audience to stay engaged with your personal brand and subscribe to receive email updates.
The incentive can come in any form. Consider offering a discount off a future purchase, early access to news and updates, or a sneak peek at upcoming content or offerings.
This all depends on your audience and what motivates their engagement.
Bonus Ninja Content: Informational webinars are impactful, valuable, and cost-effective content that can quickly help you to expand your audience. To attend, participants must provide an email address, which can quickly help you to grow your email marketing database. As a double bonus, webinars and online tutorials also help you to showcase your capabilities and fill your pipeline with prospective sales.
2. Make it Easy to Subscribe to Your Email List
Don't expect your target audience to seek out your email subscription page on your website. Instead, embed a sign-up form on the side navigation of all of your pages, or use a pop-up feature on the home page, product page, blog page, or other relevant content areas of your website.
By pushing email subscription content, rather than expecting visitors to seek it out, you'll exponentially boost your sign-ups.
Check out the image below.
Upon arriving at motivational speaker Prince Ea's website, visitors are greeted with a personal pop-up asking for the user to opt-in to receive push notifications on new content. How easy is that?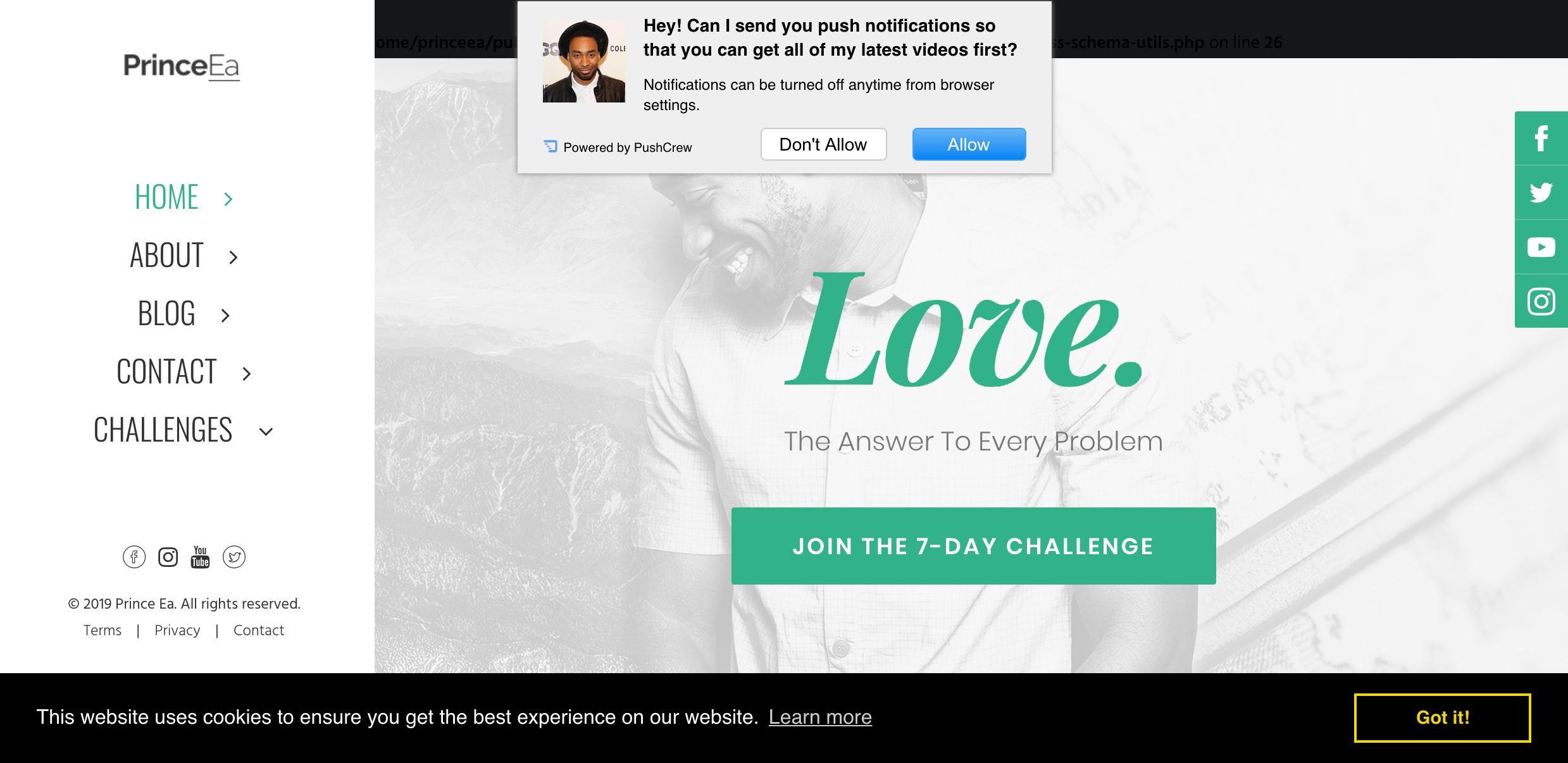 3. Hold a Contest
Many of us are competitive by nature, which means we'll do just about anything for the chance to win something of value. After all, how many people have run a ten mile, muddy obstacle course race just for the free t-shirt? You see our point.
Hold a sweepstakes, contest, or giveaway, and require an email address to sign up. Then take all of the acquired email addresses, and add them to your outreach database.
Bonus Ninja Content: Now is a good time to mention that obtaining email addresses is only step one. You also have to keep subscribers engaged. To minimize unsubscribes, you must continually offer your followers digital content of value, and respect the frequency with which they want to hear from you (more on that later).
4. Keep Your Sign-up Form Short
Most consumers have little to no patience for time-consuming sign-up forms, especially if all they will be receiving are emails or a monthly newsletter.
All you need is their email address, so consider using a strategically placed form (see number two above) that only asks for an email address.
Check out the image below. It's the registration form on motivational speaker Jay Shetty's website. All it asks for is a first name and email address.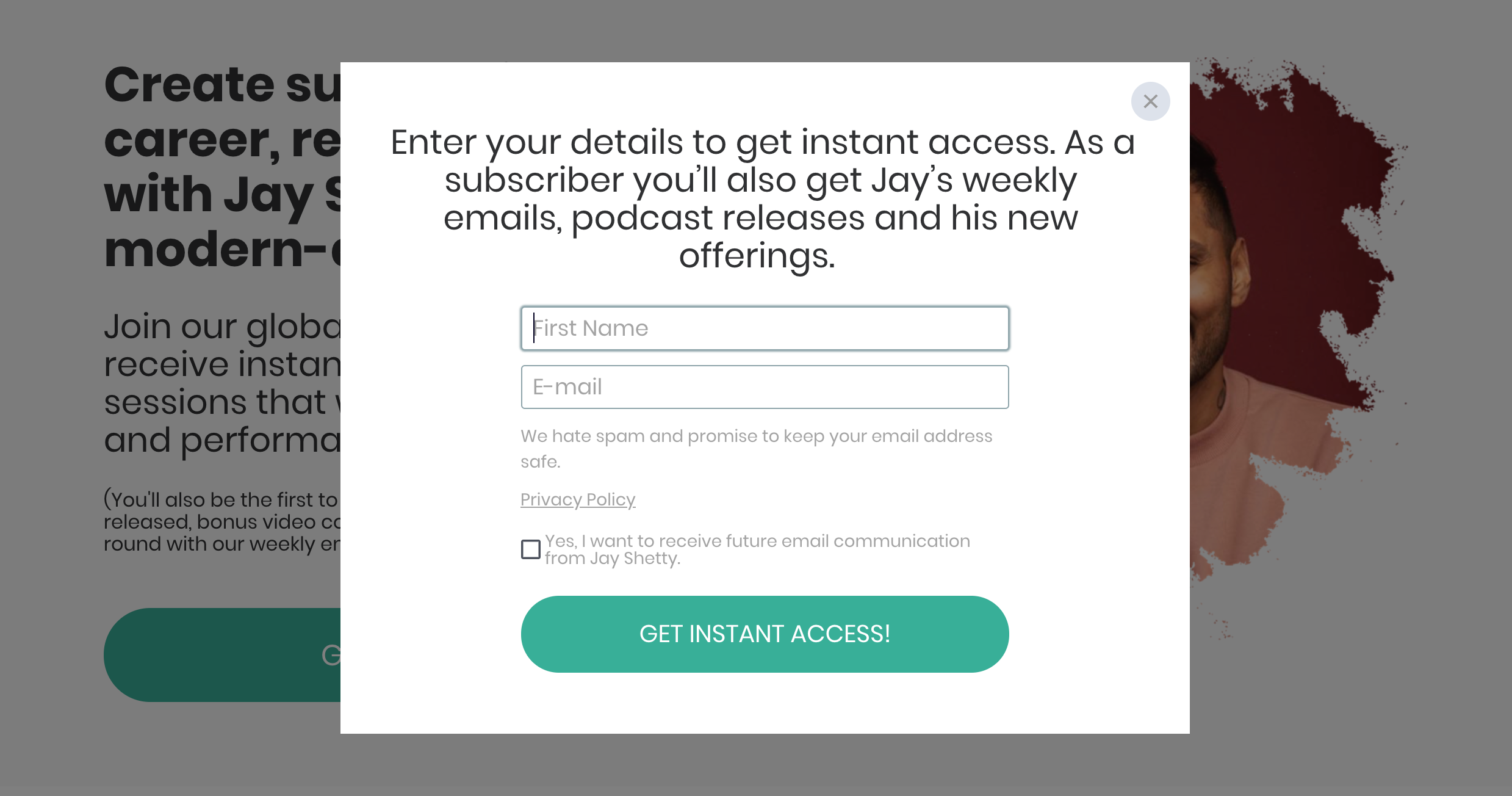 5. Create a Sense of Community
Everyone wants to be part of the in-crowd, and when it comes to growing your personal brand fanbase, social proof can be extremely valuable.
Near your sign-up form, include a dynamically updated feature that shows your current number of subscribers.
Knowing that thousands of their peers and industry colleagues have signed up to be part of your inner circle will encourage others to do the same.
6. Test Your Subscription Form Placement
Dig into your website analytics. If visitors aren't scrolling down to or clicking on the page that includes your subscription form, then move it. Try the side navigation, the footer, pop-ups, the contact page, and the homepage.
You can even try a combination, such as an unobtrusive but ever-present footer sign-up as well as a homepage pop-up. Once you find the ideal placement for your sign-up form, you'll see a boost in subscriptions. Christian evangelist and motivational speaker Nick Vujicic includes a rotating banner image on his website, as well as a hello bar, promoting newsletter subscriptions.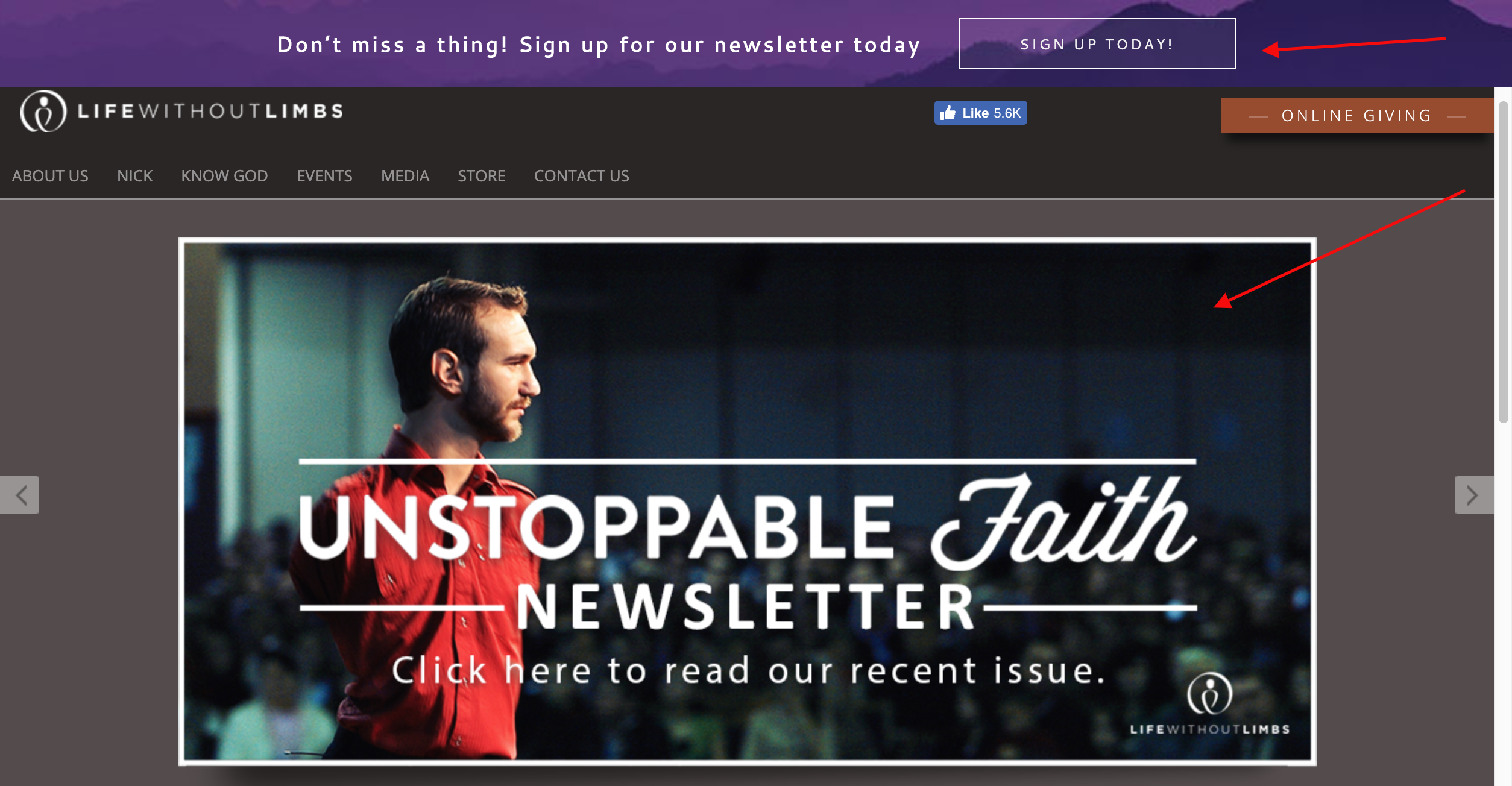 7. Offer an Informational Email Series 
As we previously mentioned, your audience will sign up for content that they feel is valuable.
An invitation to "Sign up for email updates," may sound intriguing to someone who is already a raving fan of your personal brand, but what about newly engaging website visitors who don't yet know everything you have to offer?
An offer to sign up for, "My four-week, life-coaching email boot camp course," may be relevant to their needs and motivate their subscription.
8. Make Exclusive Content Available to Subscribers Only
Consider this an advanced technique for those who already have a broad audience and want to amplify it even further.
If you have content—and a lot of it—in the form of videos, blogs, downloads, guides, course material, and special offers, you're in a great position!
Strategically assess which content you want to make available on your website and social media sites to the general public. Determine which valuable content you'd like to make gated to subscribers only.
Then, use your more desirable content as an incentive to motivate subscribers.
Bonus Ninja Content: Don't just promote these offers on your website—advertise them everywhere, including on social media, and during your public speaking engagements. The key, however, is that no matter where they learn about your exclusive content, they must provide their email address to receive it.
9. Add Sign Ups to Your Social Media Accounts
Some social media platforms, such as Facebook, allow for integrations with newsletter subscription tools, making it easy for social followers to sign up for email updates. While you have a social follower engaged with your brand and your social content, allow them to stay informed via email.
10. Refer a Friend Bonus
Referrals from a trusted source are one of the best ways to grow your network of interested and engaged followers. Encourage your current subscribers to refer a friend. Sweeten the pot by offering an incentive—such as 10 percent off a 30-minute one-on-one coaching session with you—to both the referrer and the referred.
11. Add a Sign Up on Your Blog Page
Websites with a blog have tend to have 434% more indexed pages, which means that if you are actively blogging, it will help with your search engine optimization (SEO), which further suggests that your blog is likely to be a popular source of traffic to your website and a popular channel for new followers to learn about your personal brand.
For that reason alone, you should add a newsletter or email sign up prominently to your blog pages, such as to the footer or the side navigation. New York Times best-selling author and leading high-performance coach Brendon Burchard's blog, for example, offers multiple prominent places to sign up to receive email updates.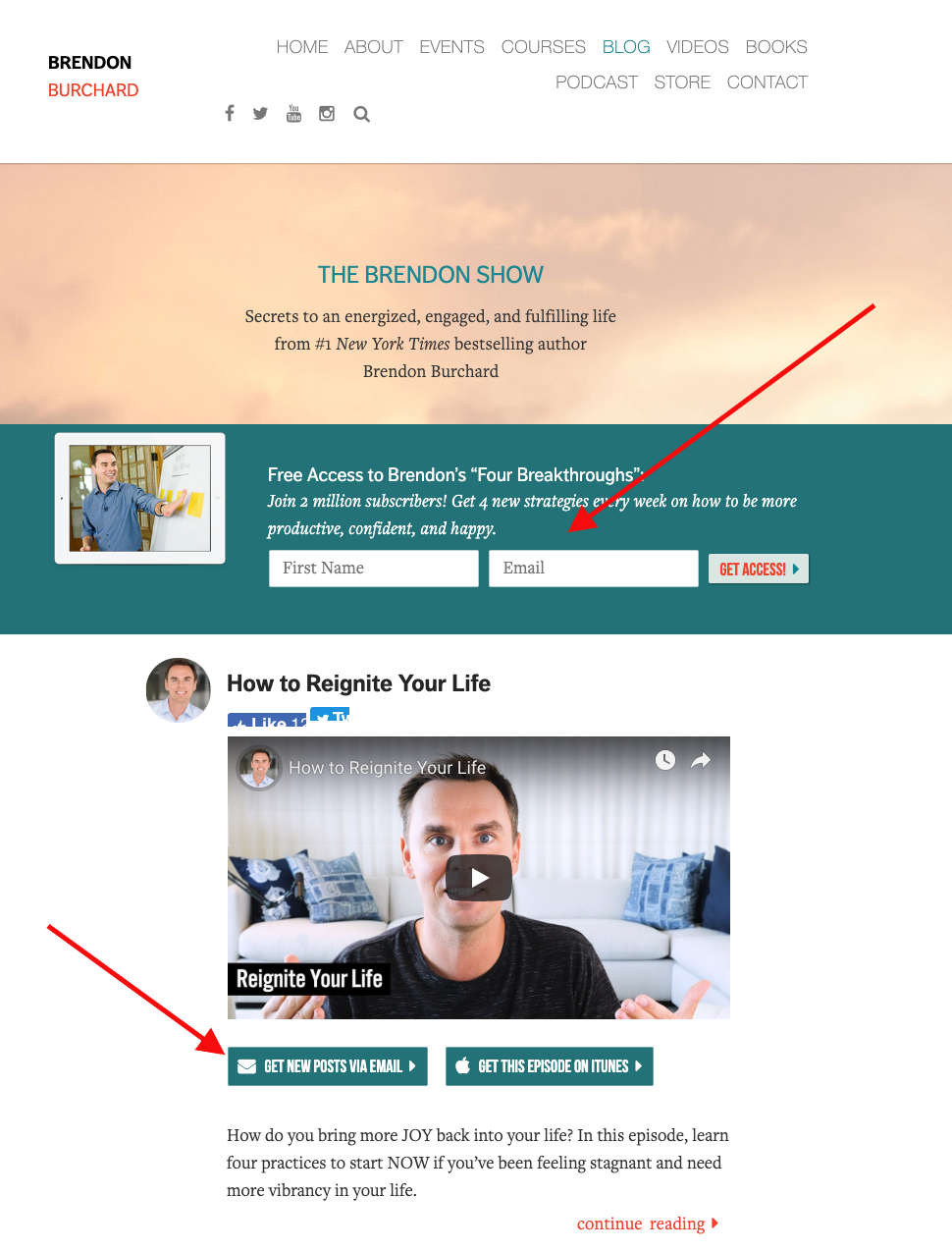 12. Generate Subscriptions Through Your Email Signature
Your email database should include anyone and everyone with whom you have correspondence. Add a link or a graphic button to your email signature that allows your recipient to sign up for regular news about your personal brand.
They are already engaging in digital dialogue with you, so why wouldn't they want to stay informed about your news and offerings?
13. Show Prospects What to Expect by Offering Example Content
Nearly every brand (and personal brand) promises that their email content will include engaging, life-changing content. So, don't just say it. Show it.
Include links to recent newsletters or educational pieces as examples of your "engaging and life-changing" content to prove to your prospects why they should sign up for more.
Bonus Ninja Tactic: Click here for tips on how to create impactful content for your personal brand,
14. Reinforce that Your Content is Free
The word free is as powerfully compelling as the pumpkin spice latté. It motivates people to act now. Simply telling your audience that your email newsletter, educational series, or monthly emails are free will help encourage your prospects to subscribe.
Just don't tell them your content is free if it isn't. That's just bad form. Check out how spiritual teacher and author Eckhart Tolle reinforces his free email subscriptions.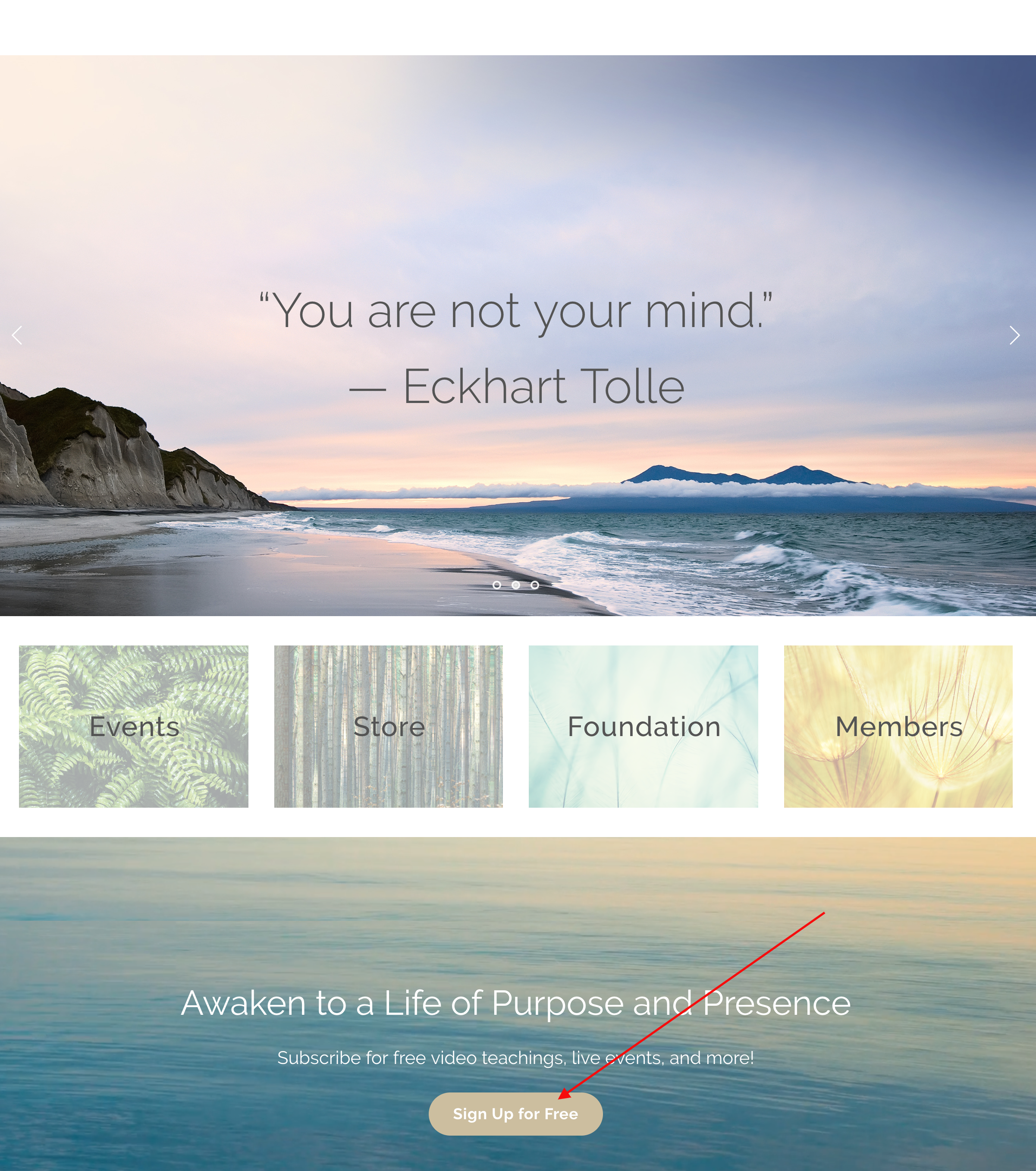 15. Add an Email Sign-up Checkbox to Your Conversion Pages
If someone is purchasing one of your services or solutions, your checkout page should include their email address.
A simple checkbox integrated within the checkout page asking if the buyer wants to receive news and information, or your monthly newsletter, captures their attention at the height of their interest in your personal brand.
16. Leverage Creative Copywriting in Your Newsletter Name
With so many brands and businesses offering newsletters, it can be easy to develop newsletter fatigue, which can negatively impact sign-ups. Give your monthly newsletter an enticing name instead.
For example, Marie Kondo, organizing consultant and author of The Life-Changing Magic of Tidying Up, promises not just email news, but "Emails that spark joy."
The promise is on brand and on point.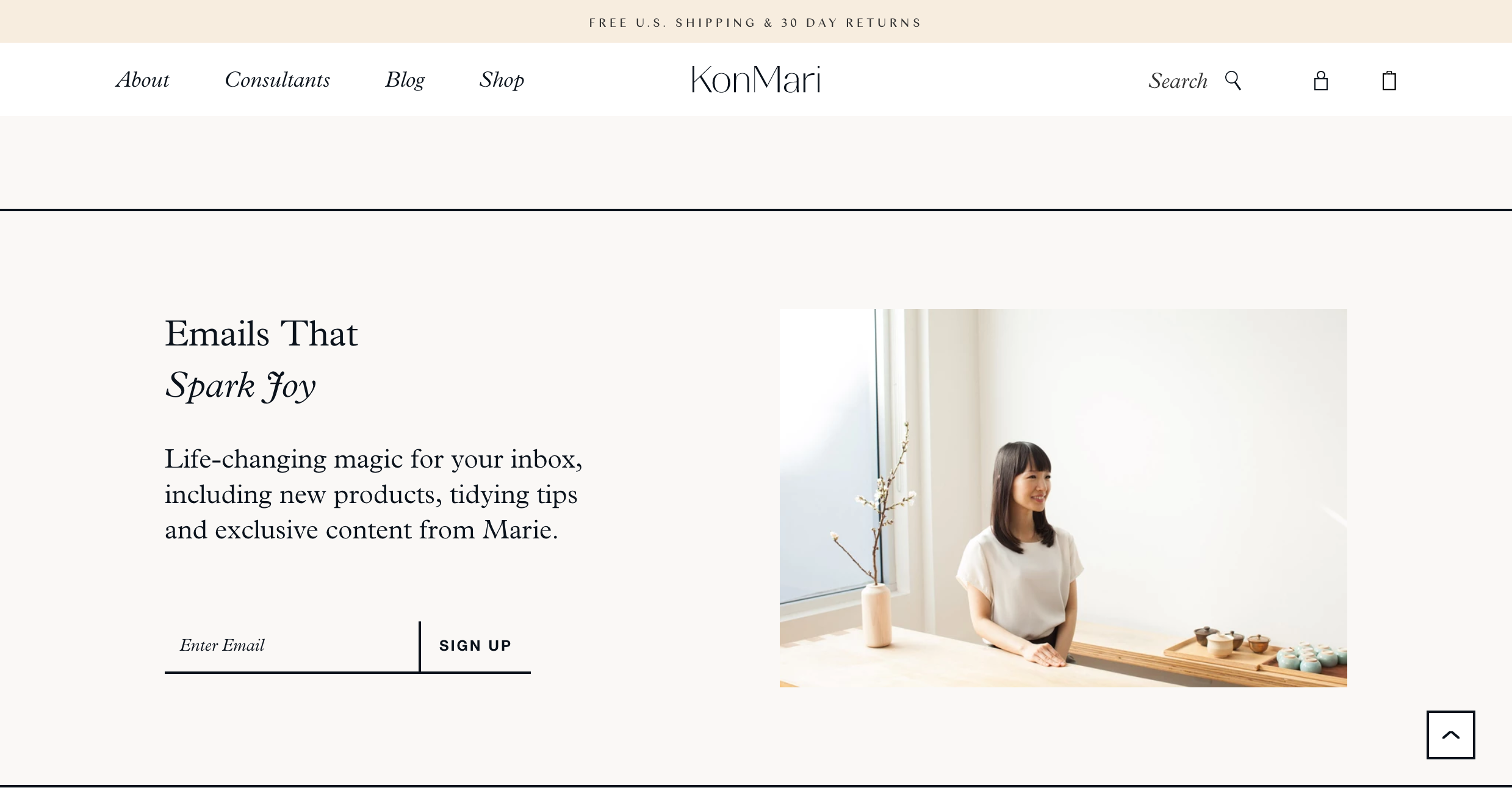 17. Be Upfront About Your Communication Frequency
According to MarketingSherpa, 28 percent of consumers will unsubscribe to a brand's email communications because they feel they are receiving too many emails. That means that the frequency of your emails matter.
By promising your prospects that you will only email them weekly (or monthly, or semi-monthly), you may give them the reassurance they need to trust you not to overburden their inbox, and encourage them to sign up for communications.
Bonus Ninja Tactic: Put the frequency decision in the hands of your followers. When signing up for your email content, allow them to choose how frequently they will hear from you, with such options as daily, weekly, monthly, or quarterly, depending on your content development strategy. Giving your prospects the power to choose how much they want to engage will motivate their decision to sign up.
Final Thoughts
Email marketing should be a foundational element of your lead generation marketing strategy, but only if you have best practices in place to continually add more followers and subscribers to your list.
For more content marketing best practices, check out this blog for tips on creating great content for your personal brand.

We hope you enjoyed this article, thanks for reading! Also, follow us on Facebook, and Twitter for updates every time we publish!