We believe the most valuable skill you can learn to make a bigger income and impact in the world with your personal brand is the skill of copywriting.
While most people think copywriting is only about sales funnels and email copy, they also think it's something they can just delegate to a seasoned copywriter.
While you may be able to do that to get some quick-wins, it should not be an excuse to entirely avoid learning this skill yourself.
As an influencer, learning the art and science of copywriting is what separates the good from the great. This skill will help you become a more effective speaker, and will help you create more persuasive content whether that's you on video, or your blog content.
So what are you doing to sharpen your copywriting skills?
Whether you are a skilled copywriter or just getting your feet wet, having a list of copywriting resources handy can make all the difference in your writing.
Your resource list can become one of your biggest assets, providing fresh insights and observations into your current copy.
However, in today's digital society, sound advice and resources can be hard to discover in the midst of so much noise.
To help you filter through the hundreds of copywriting resources available online, we have done the hard work for you, creating what we believe to be the 9 best copywriting resources that every entrepreneur needs and why you should be using them.
1. Learn How To Be A Crazy-Good Copywriter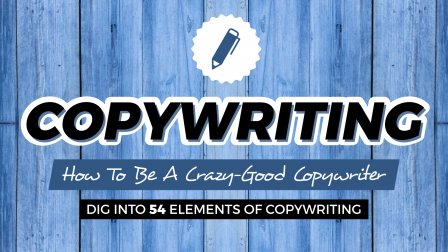 Copywriting expert Derek Franklin teaches you how to be a copywriting expert in his course, Copywriting: How To Be A Crazy Good Copywriter.
With over 20,000 people enrolled in his courses, Derek equips his students to write and think like a world-class copywriter through the use of his unique learning system.
Years of studying and practicing copywriting allowed Derek to provide only the best and most noteworthy advice on the topic, designed to help you promote and sell anything – including yourself!
Instead of giving you a laundry list of ideas and strategies related to copywriting, How To Be A Crazy Good Copywriter uses visuals, simplicity, and a concept that Derek calls "expression," in order to help you develop the mind of a copywriter.
The visual component of the copywriters brain named, "The Spark" is the most important value add and will help you to work through each stage of your writing, taking into account all copy elements and business related goals.
Not to mention, it is an incredibly handy resource to have available for quick reference!
2. Bookmark: Swipefile.com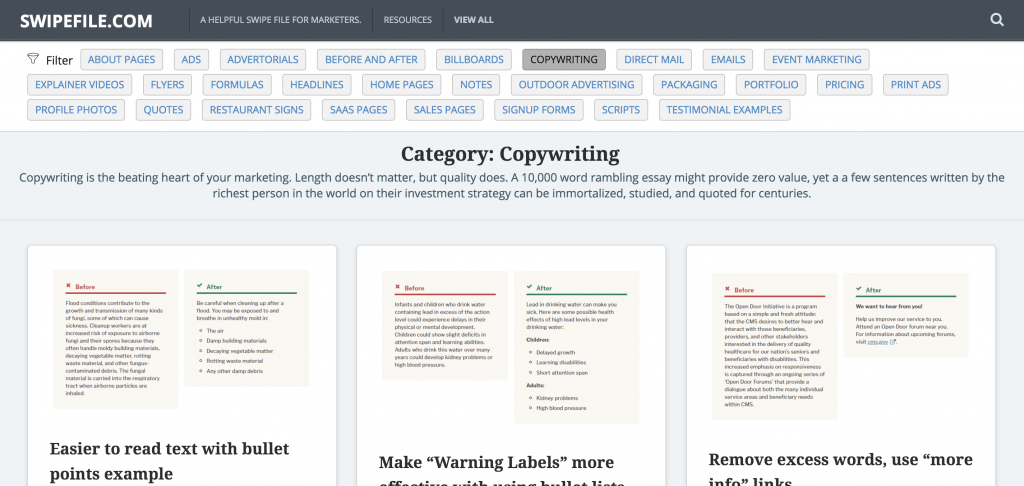 Whether you are writing a sales letter, landing page or social media post, having a Swipe File handy is guaranteed to make your writing process smoother.
A swipe file is a digital collection of existing tested and proven sales and advertising copy, kept for personal use and referenced frequently for inspiration.
Having a swipe file will help you write faster and move your reader to take action.
Swipefile.com has done the hard work for you and has created an extensive compilation of the best copywriting examples available.
Whenever you are in a pinch and looking for inspiration, head to swipefile.com and say, "Goodbye" to writer's block!
3. Read This Fantastic Book: Everybody Writes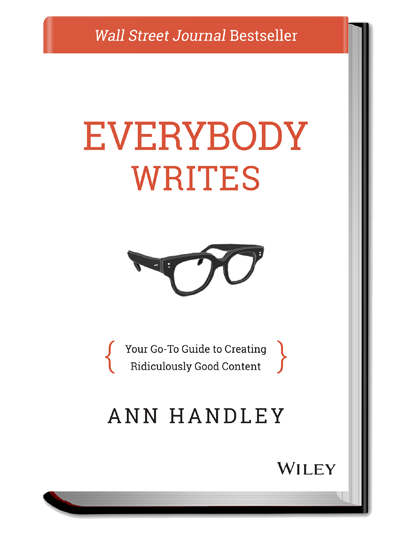 After years of experience in the digital marketing field, Ann has created the powerhouse of all copywriting books, Everybody Writes: Your Go-To Guide For Creating Ridiculously Good Content.
She believes that good writing matters even more now, not less, and has spent her lifetime helping businesses escape "mediocre marketing."
Ann Hadley was the first person in the world to have the title 'Chief Content Officer,' and her expertise in copywriting and the digital space are more than noteworthy.
According to her website, Ann wrote this book because she couldn't find what she was looking for – part writing guide, part handbook on the rules of good sportsmanship in content marketing.
Everybody Writes is broken down into six parts:
How to Write Better

Writing Rules

Story Rules and Publishing Rules

Things Marketers Write

Content Tools
Whether you are a copywriting veteran or just getting started, Everybody Writes is a must to have on your bookshelf (or even better your desk) for quick reference and copywriting insight.
4. Analyze The Emotional Level Of Your Copy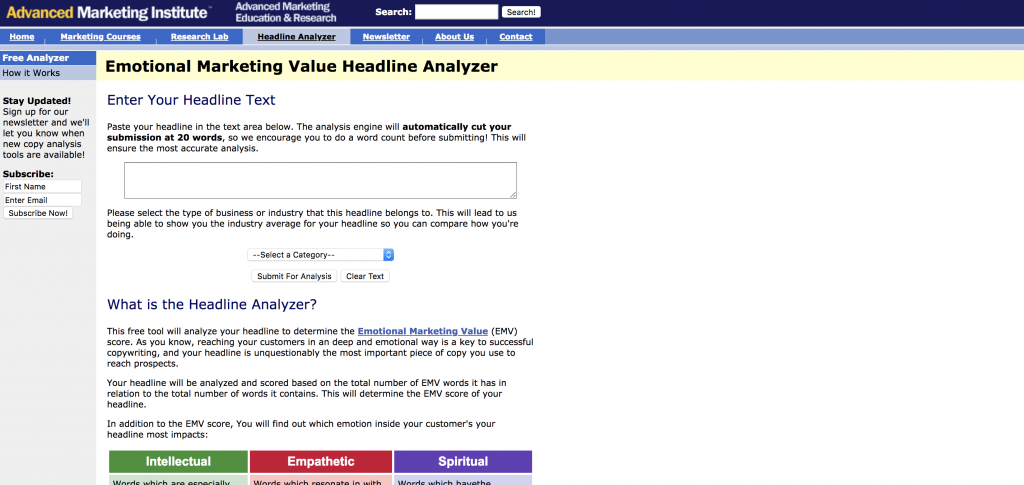 If you're in the people business…you know that one of the most effective ways of grabbing a reader's attention is by creating copy that evokes a high level of emotion from your reader.
It can be difficult to determine just how attention grabbing your copy really is, which is why the Advanced Marketing Institute has provided a FREE online tool, their Emotional Marketing Value Headline Organizer (EMV), that will allow you to input a headline up to 20 words into its system.
In turn, the calculator will give your headline an actual rating that you can use to judge how well received your copy will be to others.
In addition to your EMV score you will get the emotion type that your copy most accurately draws out from your reader.
The EMV is an effective tool that every copywriter should be using to create the best emotional and thought provoking headlines.
5. Listen To The Copywriter's Club Podcast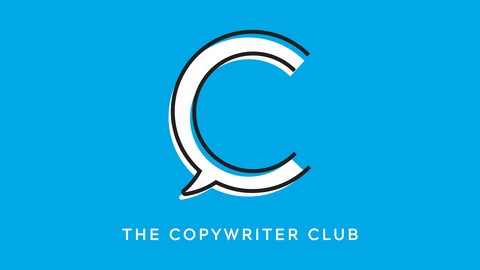 For on-the-go copywriting tips, interviews and discussions, Rob Marsh and Kira Hug, hosts of The Copywriter's Club, have got you covered.
Rob and Kira share, "Ideas and habits worth stealing from copywriters" in this in-depth copywriting and marketing podcast.
It's created to help you think bigger about your copywriting so you'll reach higher than ever before.
6. Check Your Readability with This Epic Tool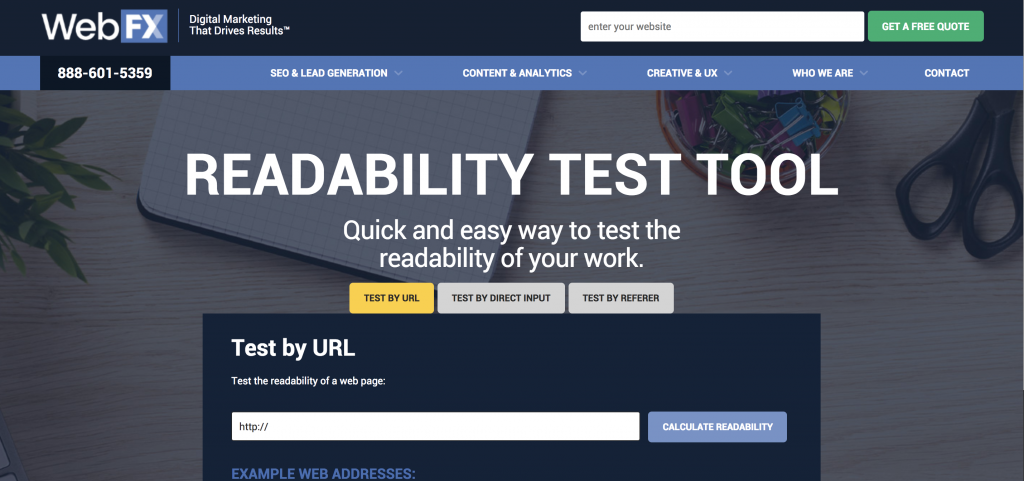 Did you know that the average American reads at a 7th grade level?
This means that your copy needs be clear, concise and easy to read.
But how do you determine the reading level of your copy?
WebFX has created a free online tool that will help you do just that! After inputting your text or page URL, the Readability Test Tool will analyze your copy and tell you how difficult it is to read.
This is an insanely helpful tool that will help you communicate your message in a simplified and easy-to-read flow.
7. Study CopyHackers's Ultimate Guide to No-Pain Copywriting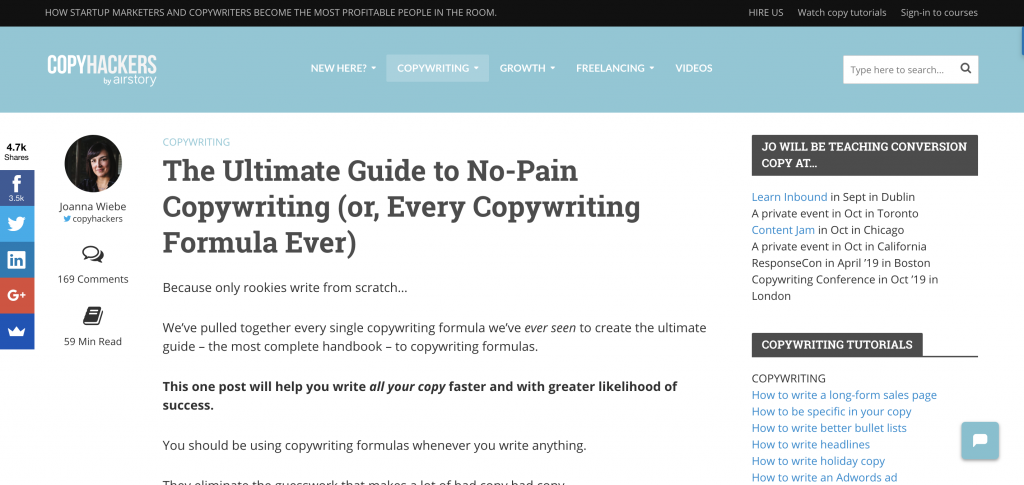 Although this resource is technically another blog post, the value CopyHackers has created by assembling a comprehensive list of every copywriting formula created is incomparable.
Bookmark this page on your browser and frequent it often to eliminate your guess work and create killer copy every time.
8. Join One Of These Copywriting Facebook Groups

Facebook groups are a fast and powerful way to get instantaneous feedback, advice or inspiration from fellow copywriters in the industry.
We recommend joining The Copywriter's Club Facebook group as well as the The Cult of Copy group to stay up to date with other copywriter's insights and conversations as well as the opportunity to have your copy critiqued.
If you want to learn and grow with your peers, join these Facebook groups!
9. Learn From The Legends
What better way to master copywriting than to learn from the best in the industry?
Studying the ways of the wise allows you to peer into the successes and failures of others who have likely been where you are right now.
It's a surefire way to reach greatness in your writing and implement long proven strategies that are still applicable in our modern society and have stood the test of time.
We recommend checking out these copywriting legends for continuous inspiration and insight into how they think and influence with writing:
Wherever you are in your copywriting journey, you will always need to surround yourself with plenty of resources to keep your writing interesting and conversational.
Use this guide to eliminate writer's block and lack of inspiration and take your writing to the next level!
If you enjoyed this post, be sure to join our private, Personal Brand Builders Community to stay up-to-date on the latest tools, strategies, and best practices for building your personal brand.  It's free… and awesome!
We hope you enjoyed this article, thanks for reading! Also, follow us on Facebook, and Twitter for updates every time we publish!