4 Reasons Why LinkedIn is the Best Platform for Building Your Personal Brand (And How to Build One)
Despite LinkedIn being the best platform for B2B leads, you don't hear much about it for building your own personal brand or for marketing in general. But the lack of hype around LinkedIn doesn't mean that it's not the right platform to grow your business and brand.
Instead of wasting time on Instagram's algorithm, shift your focus to LinkedIn to build a personal brand that entrepreneurs and business professionals trust without all the headache.
Not convinced?
Let's check out the reasons why LinkedIn is a killer platform for building your personal brand.
What's the Big Deal About LinkedIn?
LinkedIn is the perfect place to build your personal brand for many reasons, but here are the big ones that will keep you up at night knowing you're not on it right now.
4 Reasons Why LinkedIn is THE Platform for Your Personal Brand
What does all of this mean? Here are the key takeaways.
There are (literal) tons of prospective clients and networking opportunities on LinkedIn.
Most LinkedIn users don't share content on their personal pages, which means the people who do share gain more impressions with every post compared to other social media platforms.
Not only will you be seen more often, but you and your personal brand will be in front of decision-makers at companies big and small.
Last, but not least, you'll drive more traffic to your website, too, especially if you're in the B2B sector.
Alright, alright, alright!
Now you know the importance of LinkedIn, but how do you get started building a personal brand?
How to Build Your Personal Brand on LinkedIn
Building your personal brand on LinkedIn can reap big benefits just by keeping up with your profile, posting engaging content, and connecting with people outside of your usual networking circle. Here's everything you need to build your personal brand on LinkedIn.
Update Your Profile
Updating your LinkedIn profile may be a pain if you haven't kept up with it, but writing a killer profile not only makes you seem more professional but also helps LinkedIn's search engine find relevant connections outside of your network.
Dial-In Your Headline
You know that fancy little line under your profile photo? That headline is the key to making the best connections. What LinkedIn gets wrong with its automatic headline generator is that your job title isn't the only thing people are looking for when they're searching for someone to follow or connect with.
Instead, add a little bit more to your headline to draw people in. Be sure to add a little flavor to your headline by not only telling your connections what you do but who you serve and how it helps people. Not to toot my own horn, but here's a great example: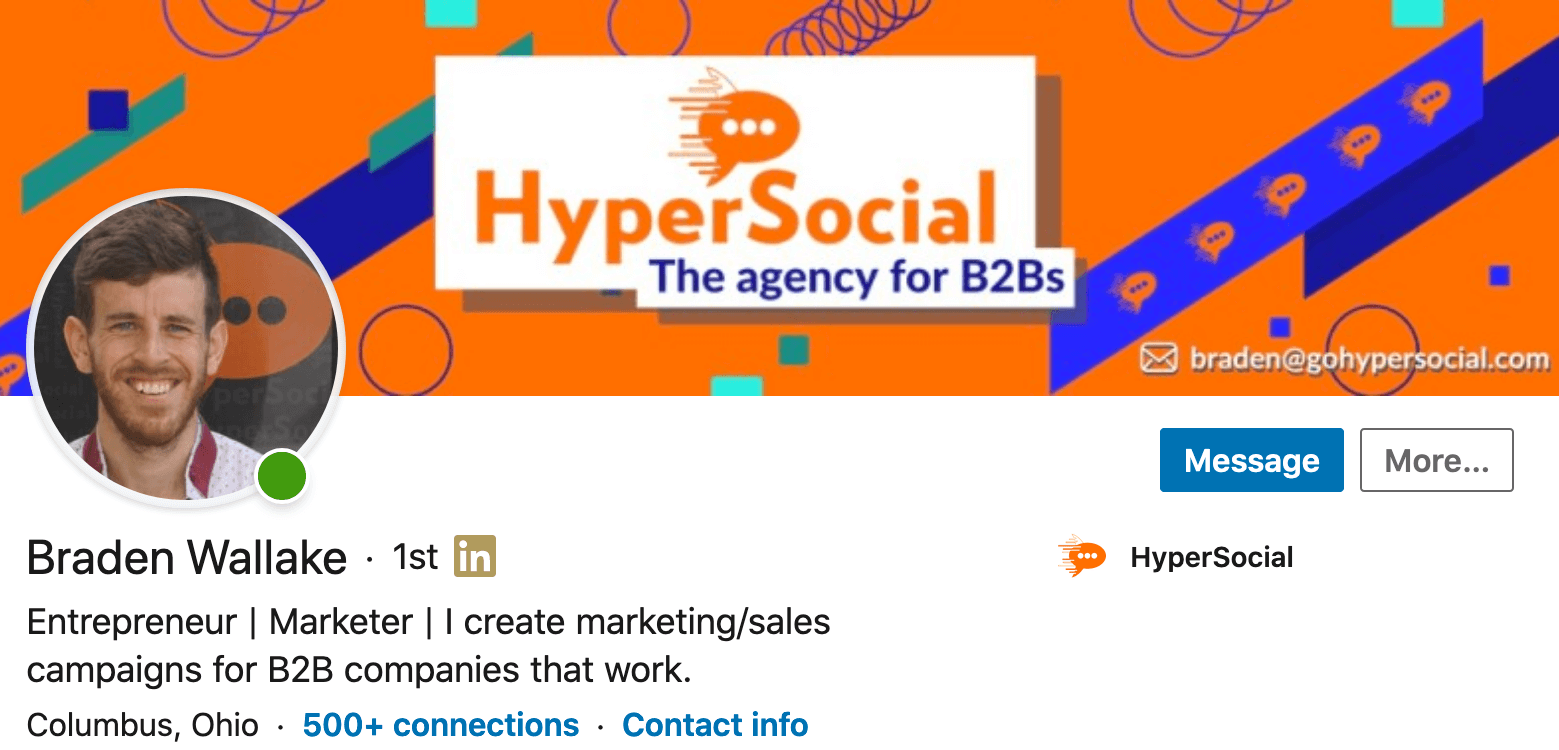 Toot toot!!
Focus on Your About Section
Your About section on your LinkedIn profile is what really matters. In this section, keywords help LinkedIn identify your profile for other professionals who are looking for you, your service, or type of business. In three short paragraphs, you can explain who you are, what you're passionate about, why and how you do the work you do, and how to contact you easily!
This section is your chance to shine not only for LinkedIn search purposes but also to sell your personal brand to your connections. Let's look at my profile to see how it shapes up.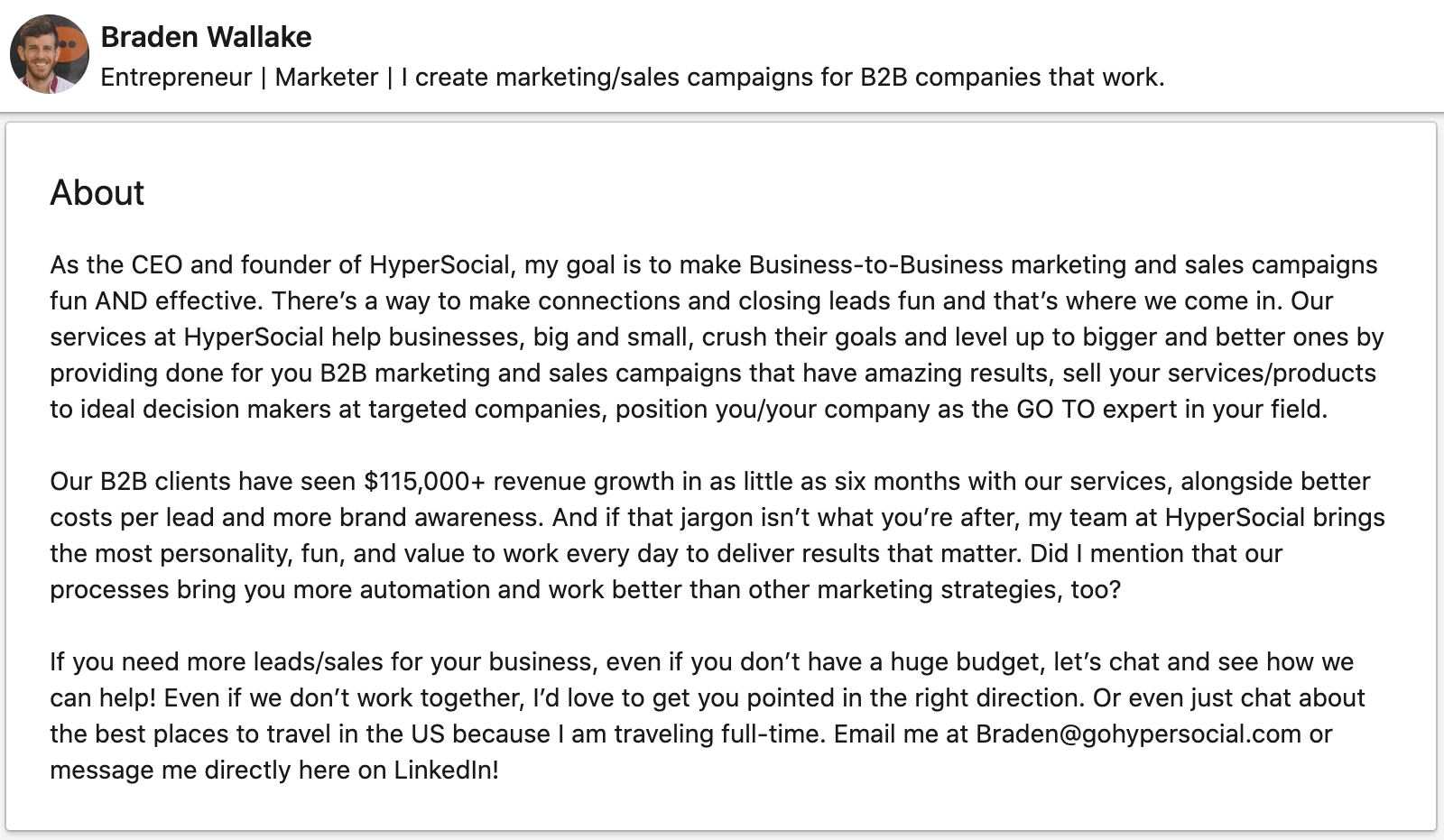 You can see that I address who I am, what I do, and why it helps our clients in the first paragraph. In the second paragraph, I showcase real results from my business and how we did it. And at the very end, I gave several reasons why people should contact me and how to contact me, too.
Pretty simple and easy to follow, but it's killer information for people who want more information on you and your brand!
Start Posting on LinkedIn
Like any social media platform, LinkedIn's algorithm supports those who are more active. You can easily stay active on LinkedIn by writing articles, sharing posts from others, and making posts about your latest and greatest.
LinkedIn posts can generate traffic outside of your own connection circle with ease. The best way to get traction on an article or feed post is to create a story out of whatever point you're making.
LinkedIn isn't just a place for business stats and photos of your employees' successes. You should definitely show those experiences, but creating a story around those moments not only gives context but shows that you're a person behind a brand and not just all business.
Start Connecting Outside Your Network
Building your personal brand and awareness around your brand means reaching outside of your usual circle and connecting with other professionals. Whether you find people in your industry or look for prospective customers, you want to connect with people in a personal way to catch trigger their curiosity.
The great thing about LinkedIn is that it allows you to send a connection message with every connection you want to make and connection request you send. We like to do a few things to make it more likely that people will connect with us and our clients.
Here's a good connection message I use:
"Hi Ben, I'm the CEO and Founder of HyperSocial. I'm traveling around the country in my van/office and thought we could connect while I was in the area!"
What makes this a good message you ask?
It tells Ben exactly who I am and where I work.
It sparks his attention as I say that I'm traveling around in a van/office, which is unusual in itself, but also gives me a reason to connect as I'm in his area.
And I know you may say that's not a great example for your personal brand if you're always located in one area and want to reach out to people in a different place. But you have to find a way to differentiate yourself from other connections by including the area you're in now or offering some kind of value without directly selling to them.
This can definitely take a lot of time if you choose to send every connection manually, but there are other ways to connect with your audiences without wasting your time.
Get LinkedIn Sales Navigator
Though LinkedIn Sales Navigator is last on this list, it really is the number one tool that works best to help you build your personal brand and connect with others in your industry and future customers.
LinkedIn Sales Navigator allows you to narrow down your connection requests based on job type, seniority level, business size, and more. This helps you find the right connections to help you grow your brand without having to waste precious time trying to connect with professionals that don't fit your audience.
Again, this can take a lot of time to do by hand, but there are services out there (like ours at HyperSocial!) that take a personalized approach to automate your LinkedIn lead generation based on your ideal prospects.
Build Your Empire on LinkedIn
Building a personal brand on LinkedIn may seem like a lot of work right now, but the results you get from this platform alone outdoes most other social media like Facebook and Instagram. Just based on the algorithm alone, LinkedIn keeps you connected with the people that matter to your business while allowing you to find the right people that will help you grow your business.
All you have to do is stay focused on telling stories, create personalized connection and messaging campaigns, and deliver value over sales to create a personal brand that's successful on LinkedIn.
What are you waiting for? Get out there and get to work!
Or, if you need help building your brand on LinkedIn, reach out to us at HyperSocial to help you get started.
Take It One Step Further
A personal brand is the best way to increase your impact, influence and income.  Start building your personal brand today, we're here to help!
For more, great content on how to build your personal brand,
subscribe to our newsletter
and join our private Personal Brand Builders community. You'll never have worry about missing our latest and greatest tips, strategies, and advice for building your personal brand.
We hope you enjoyed this article. Follow us on
Facebook
, and
Twitter
for updates every time we publish!