So many #hashtags…. And hardly anyone using them #correctly.
Hashtags, used as a tool to organize and categorize content on social media, are commonly referred to as the "SEO" of Instagram. They allow you to get exposure to other users because they are searchable – like #love for example, which has over 1.1 billion users tagging their content with that hashtag.
And……. When it comes to using hashtags as a growth tool, that's where the average user's knowledge ends. If you're like most people, you probably add 5 or 10 hashtags that are relevant to the photo, post it, and call it a day.
However, there are 3 steps to maximizing the use of hashtags to grow rapidly and reach millions  of targeted users at the same time.

1) Ranking in the Top 9
If you haven't heard of the "Top 9" yet, whip out your phone and look up #fitness, for example. You'll notice that there are 9 posts above the fold that are featured as the most "trending" photos or videos using that hashtag.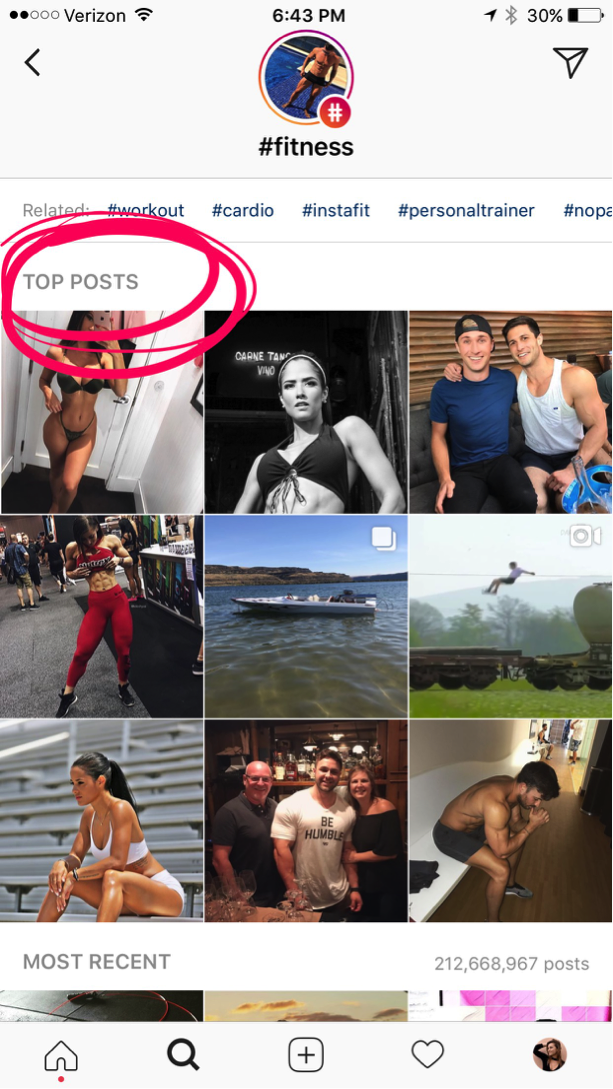 When you continue scrolling down, you'll notice a separate section labeled "Most Recent", where the most recent content is published.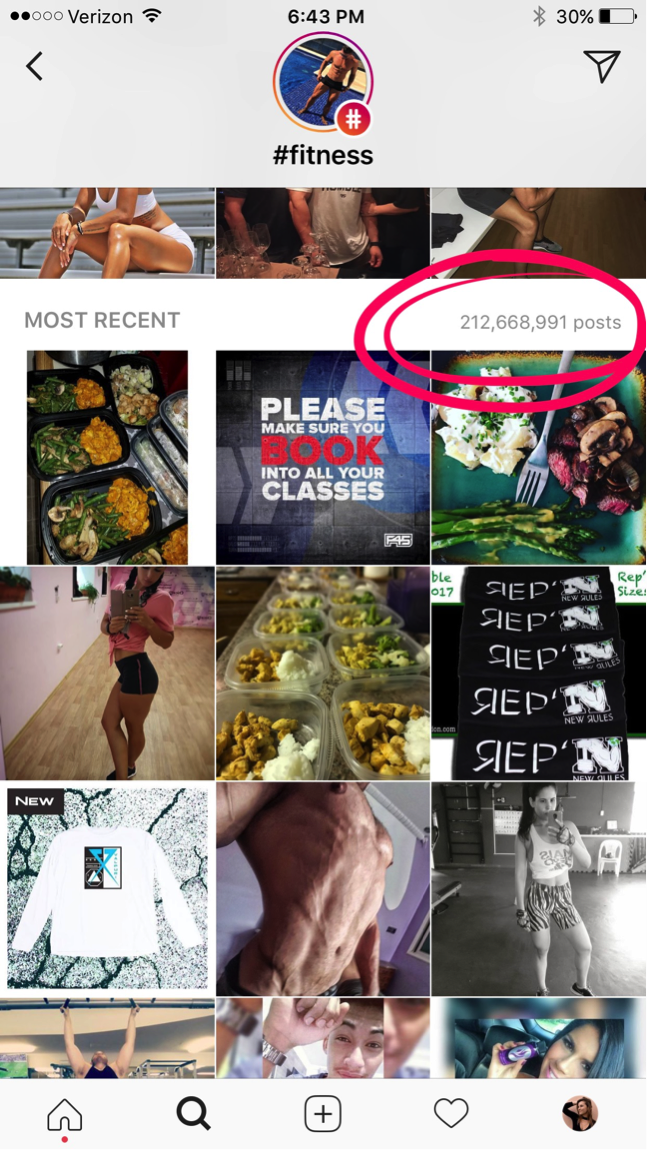 If you want to gain followers by ranking in the Top 9, you first have to make sure that you will get enough engagement to compete with the other posts in the Top 9. Take a moment to measure how many likes/comments on average each ranking post has, and see if you're able to reach (or surpass) that same level of engagement in a short amount of time.
To maximize your ability to reach more users, make sure you use 25-30 hashtags on EACH post. If you're worried about looking "spammy" to your followers, simply put the list of hashtags in the 1st comment instead of the caption – you will still show up in searches.
If you do it correctly, you will rank in the top 9 of hashtags and gain followers as a result. We've been able to grow accounts to 5,000 in 32 days by using only hashtags as a growth strategy.
2) Hashtags in Stories
The second tactic we use to gain exposure to millions of users per day is by using hashtags in our Instagram Stories.
Around May of 2017, Instagram finally rolled out the ability to add your Stories to hashtags. You can now add a few big hashtags to show up in searches and reach even more users! This is a unique opportunity for users to pop their content into a heavily saturated niche and use creative methods to stand out. I've seen many people exploit this exposure to collect emails, re-direct traffic to their offers, or simply gain more followers with an incentive (like a giveaway or prize).
To view content in other users' stories, you simply search for a hashtag like #goldenretriever for example, and view all related content by tapping on the story avatar at the top of the page.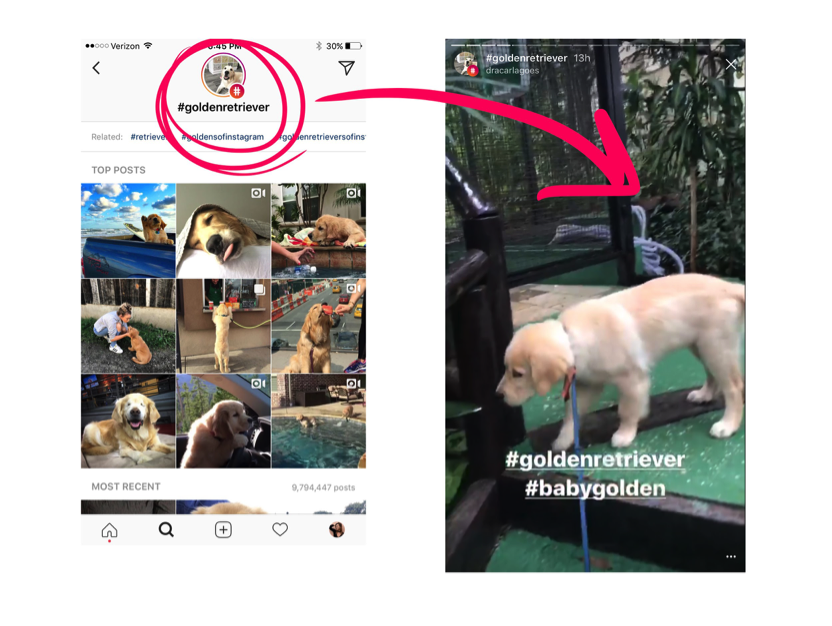 This is a great way to be viewed by thousands of users per day by inserting your content into big, competitive hashtags like #love, #business, #fitness -or  perhaps your local area – #newyork, #losangeles, #houston, etc.
3) Steer Clear of Banned Hashtags
Although there is not any hard evidence on organic reach being intentionally limited by the "shadowban" phenomenon, it's still a good idea to avoid using hashtags that have been red-flagged due to user abuse.
Basically, don't use hashtags that have the potential to be used for pornographic/violent, or anything against Instagram's terms of service. A few examples of flagged hashtags include #bikinibody, #woman, and even uncommon tags like #dogsofinstagram.
Before publishing 30 hashtags on your post, make sure each of them are clear by searching for the tag and scrolling down. If you encounter a message like the one below, it's flagged and I'd advise you to use an alternative tag – partly because it could damage your account reputation, and partly because you won't get any ROI out of it anyway, since Instagram doesn't allow flagged content to be shown through hashtag search.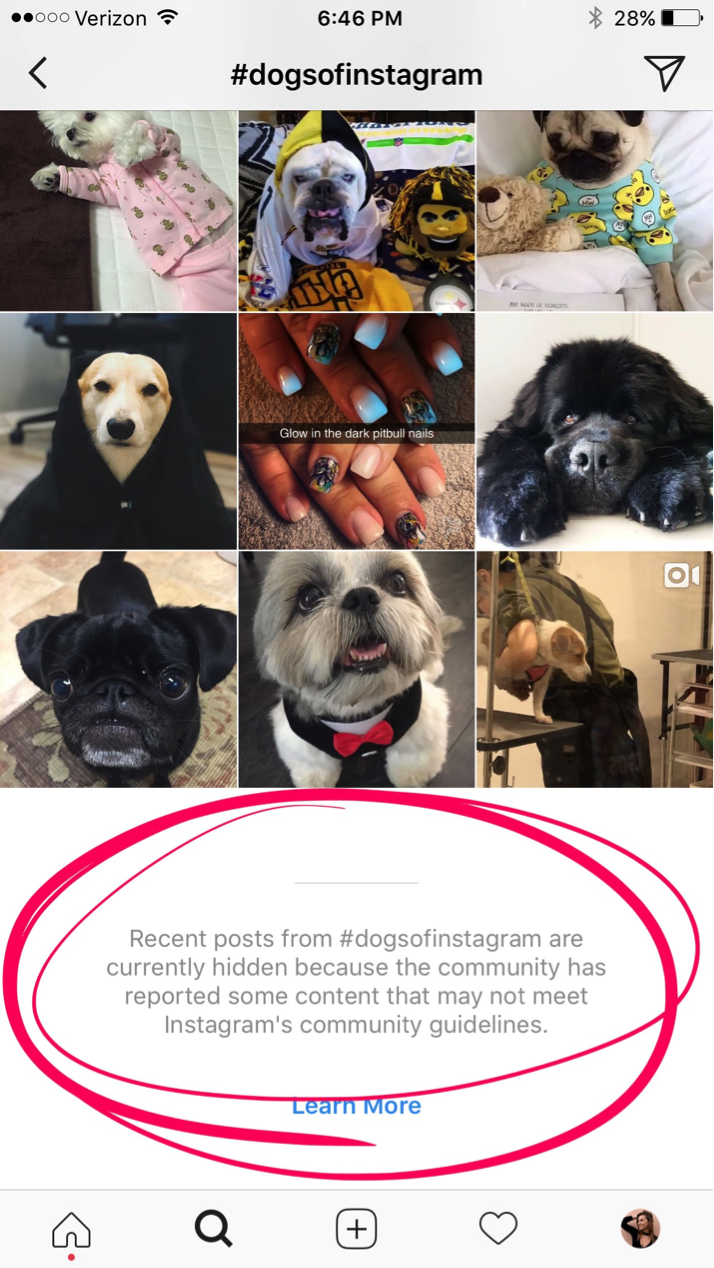 In summary, hashtags are an excellent way to reach your target audience and gain massive exposure at the same time. But, your content MUST be high-quality if you wish to yield sizable results from these tactics.
Remember, you are in an incredibly competitive landscape on social media, so think outside of the box and create content that gives someone a REASON to engage with you.
If you get all the ingredients right, your account will take off!
Have #fun and reach #millions.