Does your Facebook page need a facelift?
When building your Personal Brand, having an up-to-date, killer Facebook page is a must. We came up with 5 easy ways you can improve your Facebook page with .
1. Professional Headshot
Take a look at your profile picture. What is it? Was it taken with your iPhone? Is it 5 years old? Getting an updated, professionally done head shot is the easiest way to improve your page. To give you a little inspiration, we included some screen shots of our favorite personal brand icons below.
2. Cover Video or Image that is Optimized for all Devices
Facebook cover gives you some sizable real estate to use for your personal brand. When used correctly, your cover image can feature an image that boosts your credibility, you can highlight your offers, display a message or quote that represents the core of your brand, share news, promote an event – the options are endless!
With so much potential power in your cover photo, you want to make sure it is sized and optimized to be viewed on all devices.
To make this easy, here are the Facebook cover image dimensions and design spec's.
Total Size on Desktop: 820 pixels wide by 312 pixels high

Total Size on Mobile: 640 pixels wide by 360 pixels high

All photos should be a minimum of 399 pixels wide by 150 pixels high in order to be uploaded.

JPEG images that are 851 pixels wide by 315 pixels high and are less than 100 kilobytes in size have the Fastest Load Time.
If you are using text or a logo in your image, using a PNG file might be your best option for a clear, crisp display.
Facebook does change the dimensions of the cover image from time-to-time, so be sure to check Facebook's official dimensions if your image isn't displaying properly. (And, let us know too, so we can update this article!)
Here are some examples:

Facebook Cover Videos
Facebook also just recently came out with the ability to add a video for your Facebook cover.
Both Tony Robbins and Brendon Burchard are featuring awesome videos for their cover at the time of writing this post.
3. Refresh Your Bio
Now that your imagery is professionally spruced up, it's time to work on your words. Who are you, and how are you going to explain that to potential fans? Head on over to your About section and let's take a look….
Think of this as your virtual first impression. Just like meeting a new person face to face, your first few sentences are crucial. You want to grab their attention and create a human connection right off the bat. You want something short and sweet, but meaningful. Check out the examples below for some ideas:
Richard Branson



Brendon Burchard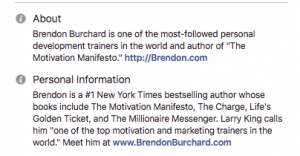 4. Link to your Landing Page
If a person stumbles upon your Facebook and is consuming content, you want to be sure there is a link to your landing page available to them. Prospects that click are showing they are interested and want more. Sending them to your landing page offer may be the "more" that they are looking for!
When using this link, make sure that it is easily accessible. Facebook gives you the ability to attach a CTA directly to your cover photo, which is a great place to link to your landing page. You can also have this link in your bio.
5. Include a Featured Video
Video is one of the most influential tools you can use online. Having a featured video on your Facebook page gives you an easy way to deepen your connection with potential fans and get them excited to learn more.
Your video can be a deeper look into who you are and what you stand for, or explain your offer. When shooting the video, remember you have only a few seconds to hook your audience, so get right to the good stuff!
Click here to watch Lewis Howes' featured video.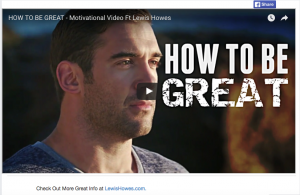 Your Facebook fan page can be a powerful tool for your personal brand.
Making sure you have a professional headshot, a meaningful, optimized cover photo, an up to date bio, links to your landing page, and a featured video will help elevate your page to the next level.
Now it's time to get to work and make sure your Facebook page is polished and ready for the world to see!
If you liked this post, make sure to subscribe to our newsletter to get notified when we do live trainings, interviews and post new articles. You'll also get an exclusive invite to join our free, private Personal Brand Builders community, and be sure to follow us on Facebook and on Twitter.
Looking for tips and advice on how to create or optimize your personal brand website?
Click below and download our Personal Brand Website Kit, right now.