The 3 Facebook Ads All Entrepreneurs Need To Use To Build Their Personal Brand
Do you want to know how personal brand experts use Facebook ads to supercharge their business growth? Imagine taking your personal brand to the next level; amplifying your message to the world and inspiring people to take action.
After implementing these techniques, you'll generate more followers, engagement, leads, sales, and resonance with your audience.

We're going to look at our philosophy around Facebook ads, a brief overview of ads structure, and the three ads that will get your content in front of the right people at the right time. These ads will help increase your organic engagement, too.
ASSUMPTIONS
Ads are fuel to the fire of your existing efforts, so there are a few assumptions to make this work. We've got some resources to help if you aren't quite there yet.
You have a website. A website is the core of any personal brand. You need to have a home for people to know you and buy from you. If you need inspiration and help to create a website, grab our free Personal Brand Website Training Kit.
You are consistently creating content. Two of the best ways to establish authority is through written and video content. If you aren't consistently creating content on your site or guest posting for others, you won't have anything to serve your audience or build authority (even if you are a rockstar).
THE 3 A's OF FACEBOOK
Facebook is a place where people come to engage with family, friends, and consume the content they enjoy. This is different from Google where people go with a specific intention or search. Understanding this context will help you serve your audience better and make your ads a pleasure instead of an interruption. Our philosophy follows a 3-part funnel formula: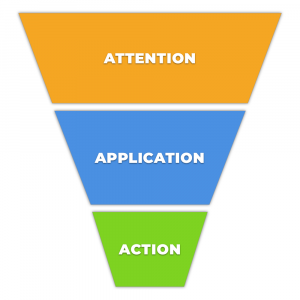 Attention
At the top of the funnel, we have our first A, Attention. We should be asking ourselves, what are we doing to capture attention?
In this stage, we want to amplify our content and posts to get the right eyeballs on it, and perhaps generate engagement.
It is imperative to target the right people or the next two parts in your Facebook funnel will be hindered by uninterested audiences.
Application
The middle of the funnel is our second A, Application. How can we entice a prospect to apply to become a part of our community?
This application could be as simple as a like, comment, or share. The prospect could watch a video in its entirety. Alternatively, it could be a more complex goal such as downloading a lead magnet or registering for a webinar.
Help the prospect get skin in the game and shift their mindset into your way of thinking.
Action
The bottom of the funnel and last A is Action. Now that you've served relevant content to the right audience, driven them to join the community, it's time to ask for action (the monetary transaction).
If you're a coach, that's scheduling a session.
If you're an online trainer, that's selling a course.
If you're a speaker, that's booking a speaking gig.
Whatever moves the needle for your business, this is the action you want your prospect to do.

These funnel stages may have more than one interaction at each point. You may have to serve your content several times before you get them to apply or buy.
FACEBOOK ADS STRUCTURE (A Brief Overview)
Whether you've run ads on Facebook or you're entirely new, knowing how they structure their platform will help you create quickly create ads and not get stuck by all the options.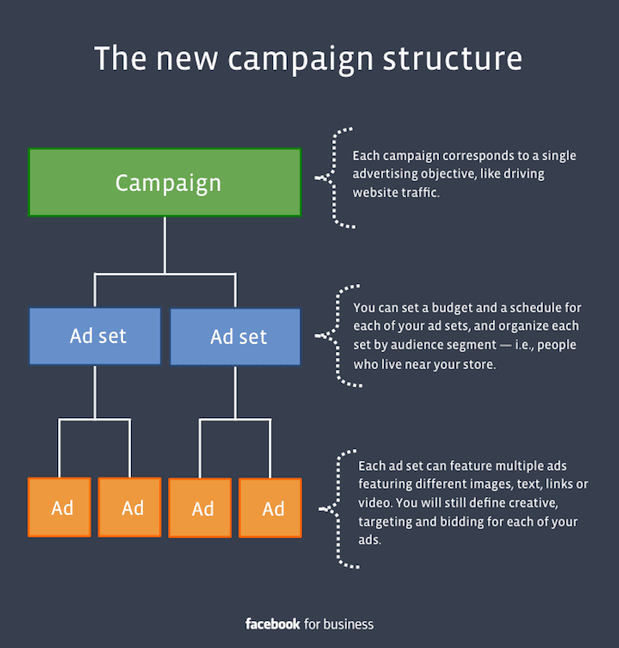 At the top, you have the campaign. Campaigns hold one crucial thing, your objective. The could be brand awareness, page post engagement, or conversion ads, to name a few. Choosing the right objective impacts what type of ads and creative you can run down the line.
Next are ad sets. Ad sets hold a majority of the "technical" levers of your advertising. This includes conversion optimization, budget, duration, custom audiences, location, exclusions, placements, and bidding.
Last are ads. Ads house your copy, creative, links, and call to action. It is the actual content users will see.
For more about ad campaign structure, check out Facebook's help article.

Pro tip: If you aren't quite sure what copy and creative will resonate with your audience, check off the "dynamic creative" slider at the ad set level. This will allow you to upload up to 30 assets such as images, videos, post copy, headlines, descriptions, CTA buttons, and links when creating an ad. Facebook will mash up the assets and find winning combinations, taking the hard work out of creative optimization. Read more on dynamic creative.
THE 3 KILLER FACEBOOK ADS TO GROW YOUR PERSONAL BRAND
Now that you understand the assumptions, flow of a Facebook funnel, and how ads are structured, let's take a look at the ads to level up your personal brand to generate more sales and a bigger impact.
1A. Page Post Engagement
To grab attention at the top of the funnel, you'll run a page post engagement ad. This tells Facebook that you want to serve your content to people who will view and engage with it.
In your Ads Manager, create a campaign with the page post engagement objective. In your ad set, target audiences related to the content or the post. For example, if it is a motivational post, you could target the interest "Tony Robbins." If the post is about digital marketing, you could target those with the job title "Digital Marketing Specialist."
Here's an example from HubSpot:

Here's an example from Hotjar:

Here's an example from Moz:

Pro tip: If you want to keep social proof (likes, comments, and shares) while targeting multiple audiences, grab the post ID of your content and insert it during the ad creation process.
Here's an example from the HubSpot post above:

2A. Engagement Retargeting
Now that you've amplified your content, it's time to get the viewers to apply to be a part of the community. You'll do this by targeting engagers on your Facebook page and Instagram profile.
You'll set up a campaign with the objective of conversions. In your ad set, target those that have engaged with your content in the past 30 days. To target these users, you can go to the "Audiences" section in your ad account and create an "engagement" audience. See the screenshot below: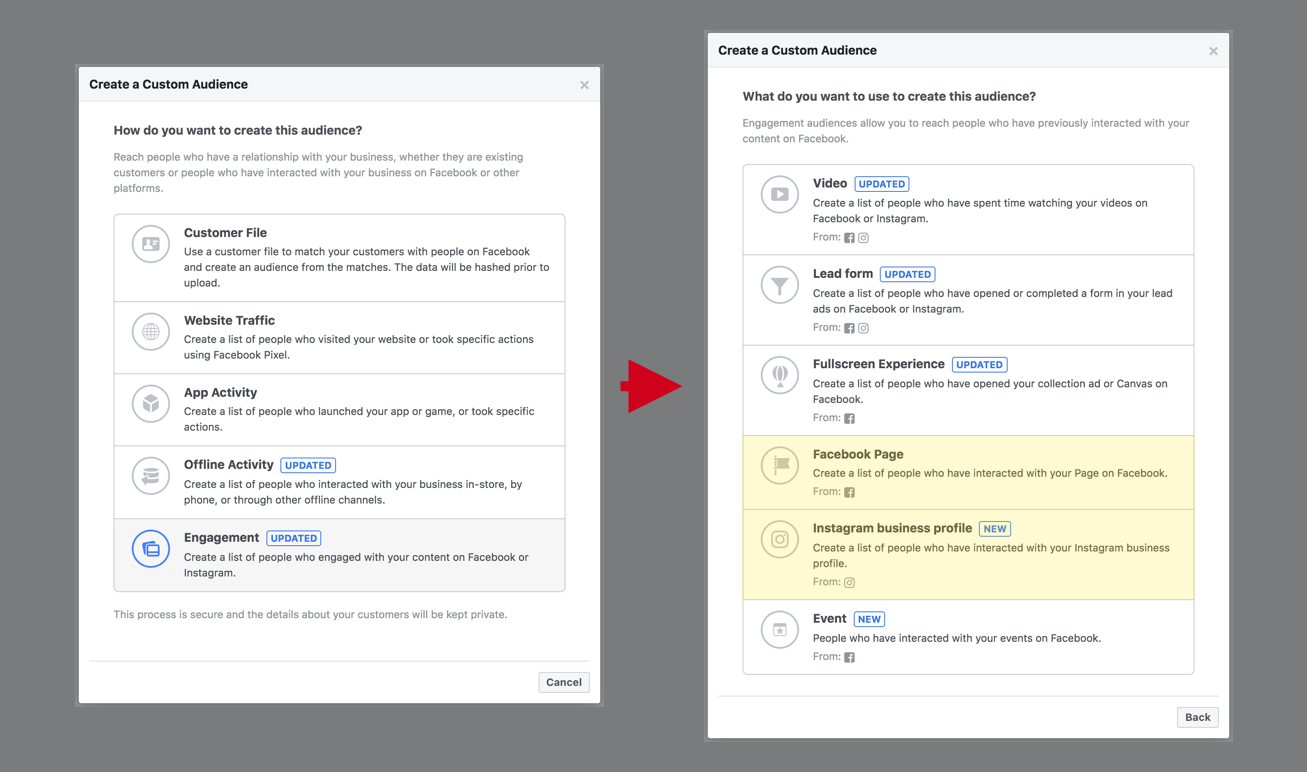 You'll want to create a highly specific lead magnet, webinar, consultation, or valuable incentive for your prospect.
Here's an example from Segment:

3A. Conversion Ads
Congratulations! You've now moved your prospects from no understanding of you or your personal brand to applying to be a part of your community. Now it is time to go for the ask – a monetary transaction.
In your targeting, you'll serve your conversion ad to those that have requested a lead magnet, registered for a webinar, subscribed to your newsletter, or a comparable conversion. They have demonstrated interest and are ready to take the next step.
Now is the time to be direct, create desire, and drive to the sale. This should be demonstrated in your copy and creative. The sales page must also make good on the promise in the ad.
Here's an example from Digital Marketer:

Conversion Tracking
Measuring the effectiveness of your advertising efforts is critical to scaling and long-term success. For Facebook ads, it is even more important that you send back conversion data as it happens. They have built a billion dollar advertising engine that can find the right buyers, even within audiences containing millions of people.
For your middle and bottom of funnel ads that are set up with a conversion objective, you'll need to make sure you have the Facebook Pixel and conversion events installed.
If you need help setting up your Facebook Pixel and standard events, see Facebook's documentation:
Let's Wrap Up
You are now equipped to raise up your personal brand to the next level and grow your business, too!
We covered:
Information is only as valuable as its paired action. Go and do; Grow your brand and your business.
Facebook can be a daunting beast! DM me on Instagram with your questions.
If you enjoyed this post, be sure to join our private, Personal Brand Builders Community to stay up-to-date on the latest tools, strategies, and best practices for building your personal brand.  It's free… and awesome!
We hope you enjoyed this article, thanks for reading! Also, follow us on Facebook, and Twitter for updates every time we publish!