How to Use SWOT Marketing Tool to Identify Your Marketplace Positioning
Got SWOT? If not, you may want to consider this strategy as a means to deepening your awareness of your personal brand's marketplace positioning.
Understanding the position your personal brand plays within the ecosystem of your industry is crucial to optimizing your marketing messaging.
Simple, right? You offer coaching services. So, you're a coach for anyone, anywhere, who needs coaching, and you compete for clients against other coaches. That was easy.
Slow down there, marketing maverick. There is much more to marketplace positioning than a cursory assessment of your offering and goals.
But don't worry. A SWOT analysis is a marketing tool that will walk you through that critical, in-depth marketplace positioning process so you will have a truly insightful understanding of where you can take your personal brand, and how to get there.
What is a SWOT Analysis?
A SWOT analysis is a marketing and business strategy tool that can help brands identify their current and aspirational positioning in the marketplace.
SWOT tools are particularly valuable for emerging brands, or any entity conducting a thorough marketplace analysis in preparation for a messaging strategy assessment or marketing campaign.
What's With the Funny Name?
SWOT is an acronym that stands for Strengths, Weaknesses, Opportunities, and Threats.
Typically, SWOT analyses are created in a visual, four-quadrant format like the one below: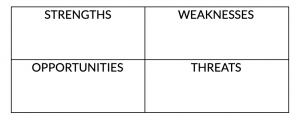 During a SWOT exercise, your goal is to fill in each quadrant accordingly.
By the end of the activity, you'll have a visual reference that will quickly tell you what areas of your personal brand need focus and refinement.
If, for example, your weaknesses quadrant contains the most content, you may want to revisit your product, service or business strategy. If your strengths quadrant is packed, then it's time to go-to-market, taking into consideration your opportunities and potential threats.
Understanding the SWOT Components
When filling out your SWOT analysis chart, consider the following factors for each quadrant:
Strengths:
What do you do better than your direct or indirect competitors?
What sets your personal brand apart from the competition?
What do you offer that is innovative or highly coveted by your prospective audience?
Weaknesses:
Where does your offering fall short compared to your competition? It could be related to pricing, staffing, service offering, network, years of experience, or anything else that is acting as a barrier to you closing sales.
Opportunities:
Where do you have room to strengthen or expand your offering?
What marketplace dynamics are changing favorably for you?
What is happening in the competitive landscape that may positively benefit your business (e.g., the consolidation of two competitors)?
Threats:
What forthcoming events or factors may threaten your business or brand?
What marketplace dynamics are changing unfavorably for you?
What is happening in the competitive landscape that may negatively impact your business (e.g., new, low-priced additions to the marketplace)?
A few things to keep in mind to help you focus and frame your SWOT considerations:
Strengths and weaknesses are internal factors that you can control.
Weakness and threats are external factors that you cannot control, but to which you must strategically react.
How Can a SWOT Analysis Help You Grow Your Personal Brand?
When you are your brand, it's personal.
This reality can make assessing your value proposition difficult.
Difficult, but not impossible. Understanding where you are in the market, and where you want to be, is essential to developing the business and marketing plans that will help you effectively get there.
Optimize Your SWOT with External Insights
Since self-reflection is hard (that includes business self-reflection), consider getting an outside perspective on your SWOT analysis.
Collaborate with trusted colleagues, clients, mentors, or friends in the process. An outside perspective may help you boost your strengths section (#humblebrag), or be more realistic about your weaknesses (#truth).
How to Avoid Analysis Paralysis
If you are struggling to articulate the key elements of your SWOT, use the questions below to help guide your reflections:
Strengths
Why do my clients choose to work with me?
What elements of my business are the ones that have made me successful?
What advantages do I have over my most significant competitors?
What are my assets? Consider knowledge, education, network, reputation, and innovation.
What are my physical assets? Consider patents, technology, digital products, funding, or raving fans willing to act as referrals?
Weaknesses
In what ways am I failing to compete effectively in my space or industry?
What processes, resources, or tangible assets do I need to improve my operations, marketing, or service offering?
Are there geographical barriers I face to success in my industry?
What are the reasons I have lost a client or a prospect opportunity?
Opportunities
What are the trends facing my industry that may help fill my pipeline with prospects, increase cross-sales, or boost up-sales?
What factors impacting my competitors may favorably influence my business?  This could be cost hikes by my competitors, or a flattening of the competitive landscape due to brand consolidations.
Are there upcoming regulations that may positively impact my business?
Are there additional services or solutions I could offer that would enhance my offering and meet a marketplace demand?
What slate of needs does my target audience have that I could—but am not currently—fulfilling?
Threats
Are there new competitors entering the marketplace who may steal some of my market share?
What trends are impacting my target audience that may negatively impact their need for my services?
What changes to technology could impact my offering?
Are there indirect competitors that impact my conversion rates?
Example of SWOT Analysis
Let's put our theory into practice.
Here, we are proving a hypothetical example of a SWOT analysis for a fictional personal brand.
In our example, our fictitious entrepreneur is an author, blogger, and self-help motivational speaker. We'll call her Aurora Borealis.
Aurora's platform focuses on empowering women in the workplace, equal rights, and helping motivated women have it all—career, family, and self-love.
Here is Aurora's personal brand SWOT analysis:
Strengths
A strong reputation as a well-respected women's rights activist
Three celebrity clients who have helped grow my personal brand awareness and following
75,000 Instagram followers
Recent book deal that peaked at #8 on the New York Times Best Seller List
Successful podcast with over 10,000 monthly downloads
Weaknesses
Yet to earn media coverage in the top-targeted publications (LA Times, TIME magazine, The Talk, The Ellen DeGeneres Show)
Most notoriety is centralized on the West Coast; lacking awareness in the Northeast and overseas
Blog followers have plateaued: little time to frequently publish content, making it less relevant and useful to finding prospective clients
Most clients are referrals responding to promotional offers, making it difficult to right-size pricing to accommodate current overhead
Opportunities
#MeToo movement is finally helping to expand awareness of women's equal rights in the workplace, helping to broaden podcast listeners and social followers to 25% male audience for the first time
Upcoming coast-to-coast book tour and speaking engagement
Podcast remains the most influential channel for identifying new followers and prospective client leads
Threats
The biggest name in the women's motivation space is releasing a new book and scheduled to host a cable talk show
Former celebrity client faced a scandal, and association could negatively reflect on my brand
New women's rights activist entering the marketplace is gaining traction—her book just debuted at #2 on New York Times Best Seller List
What does Aurora Borealis' SWOT Analysis tell us?
She has earned initial notoriety and has a foundation of raving fans, but she needs to continue making an impact to remain relevant in a space that is becoming crowded with voices.
With a strong podcast service, she needs to find ways to use it to grow her audience, identify clients, or monetize her content to compensate for pricing struggles she is facing.
She has an opportunity to grow her male follower base. Are there speaking engagement opportunities she could pursue, or services she could offer to this audience?
If our hypothetical entrepreneur is as busy as we know most are, the process of developing this SWOT analysis can help to focus her thoughts and give her some short- and long-term planning ideas.
Pair being busy with having a ton of ideas about growing her brand, and a lack of know-how to strategically address trends and opportunities she comes across daily, and you have that need for SWOT.
Hopefully, this demo has helped you see how SWOT analysis tool can support your personal brand.
Your Mission, if You Choose to Accept It
We challenge you to craft a SWOT analysis of your personal brand or revisit an old one.
Reflect on where you are in the development of your personal brand and the landscape surrounding your clients, the industry, and your competitors. Identify how you can leverage your strengths, mitigate your weaknesses, take advantage of opportunities, and avoid threats to ultimately take your personal brand from six to seven figures.

We hope you enjoyed this article, thanks for reading! Also, follow us on Facebook, and Twitter for updates every time we publish!